ᓄᐦᑕᐃᐧᕀ ᐊᐢᑯᑖᐢᑯᐱᓱᐣ
nohtawiy askotâskopison

My Father's Cradleboard


Morgan Possberg Denne

November 18 - December 22, 2023


Closing Reception:
December 15th, 2023
7PM @ The New Gallery
208 Centre St SE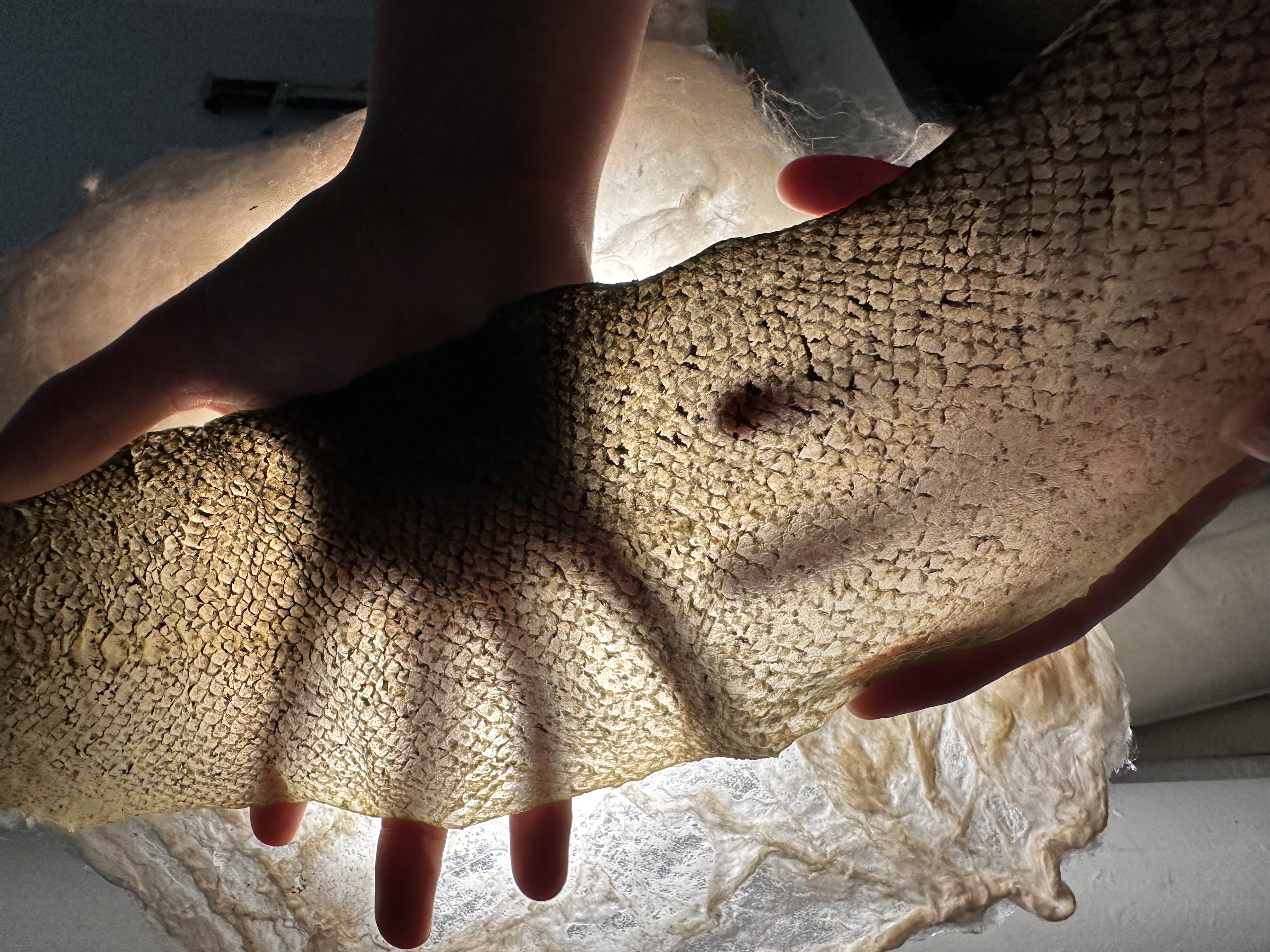 Photo by Dan Cardinal McCartney. Courtesy of the artist.
---
Cradleboards have been used for thousands of years by our ancestors to carry and love for our future generations. They have protected us, acted as an external womb, and given us a place as children to watch our parents' culture and learn from a safe distance. I've always wondered if the fact that neither my father, his father, or myself was ever put in a cradleboard may have had a long term impact on our development, personhood, and our coping mechanisms to the ways that colonialism, residential schools and the foster care system has affected my family.

Now as an adult I deeply wish I could rewind the clock and put myself, and my father before me, and his father before him in a cradleboard as a child. To softly sing songs to us, give us safety, and to give us a connection to our culture in a safe environment. Maybe this would fix things. As kids when we were supposed to be kept safe and playing in the woods we were instead being prepped for the meat factory - the eternal meat grinder of colonialism.

The western world teaches us to push aside this childhood imagining and innocence - "These things can't be undone!", but what if they could? In another world somebody took better care of us, in another time we learned to drum and sing and dance, in another place we were listened to by adults who had the capacity to love and care for us.

These hot chest and aching throat feelings, the times of biting back angry tears and saying "It's fine" have to count for something….right?


---
In this text Morgan and Jordan speak on consent and permission, considering what is sacred and sharing their feelings on relational community.


---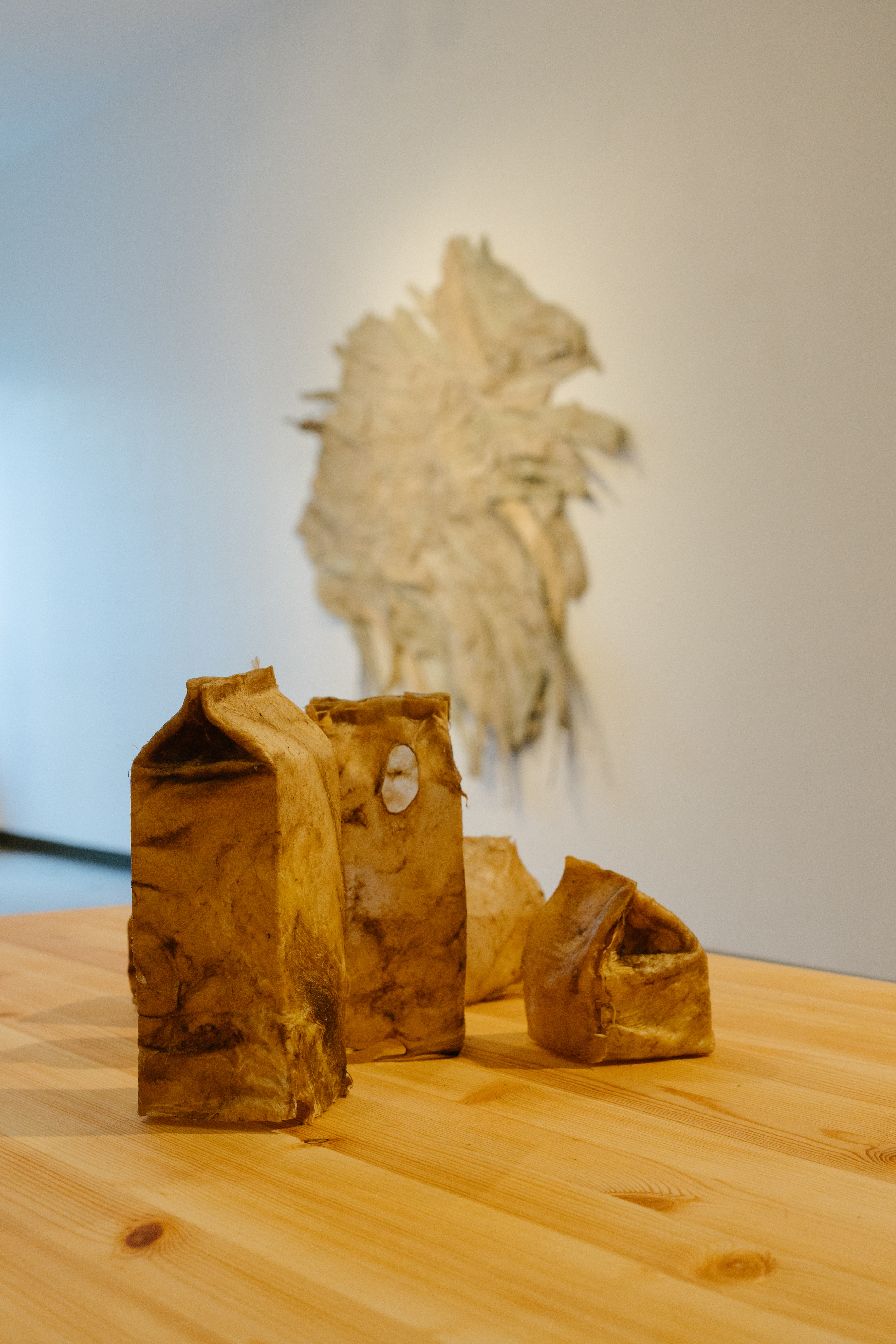 Documentation by Danny Luong
---
Morgan Possberg Denne
is Two-Spirit millennial scoop and foster care survivor; with settler, Cree, Metis, and Chippewa blood connections. They have grown up in treaty 7 territory, and have relatives in southern and northern Ontario. Morgan creates imaginative, illustrative objects which could be seen as pieces of possible narratives, different ways to connect with the past and potential futures through layers of abstraction with no right or wrong answer. What matters to them is not accurately recreating the past or to predict the future, but rather to capture an inner truth and a possible alternative reality of colonial experiences. In a sense, creating new culture from a series of "what-ifs" and new stories / lore. Their work has been recently shown at the Confederation Centre for the Arts and Gallery Gachet.
Jordan Baylon
(they/she/he) is a second generation PilipinX artist, critic and community worker imagining justice and abundance for equity-deserving peoples within the spaces of all our relations: personal, communal and societal. As an artist, Jordan explores queer and racialized identities as liminal spaces: both and neither; between, across and through; both inside and outside; and both literal and imagined. Jordan's community practice leverages a decade of experience in the non-profit arts and culture sectors, where they developed their critical lens around equity, anti-racism and systems change. After many years navigating institutions, Jordan now devotes their interest and attention to working at grassroots alongside equity-deserving individuals and communities.--
中文翻译 Chinese Translation
...
我父親的搖籃板

數千年來,我們的祖先一直使用搖籃板來承載和愛護我們的後代。 它們保護我們,就像一個外在的子宮,給了我們一個作為孩子的地方,讓我們在安全的距離觀察父母的文化並學習。 我一直在想,我的父親、他的父親和我自己都沒有被放在搖籃板上,這一事實是否會對我們的成長、人格和我們的應對機制產生長期影響,就像殖民主義、寄宿 學校和寄養系統對我們家庭的影響一樣。 現在,身為一個成年人,我深深希望時光能夠倒流,讓我自己、我的父親和他的父親在孩提時代都放在搖籃上。 在一個安全的環境中,輕輕地為我們唱歌,給我們安全,讓我們與我們的文化建立聯繫。 也許這樣就能解決問題。 當我們還是孩子的時候,我們本應在森林中安全玩耍,但我們卻被送進了肉類加工廠--殖民主義的永恆絞肉機。 西方世界教導我們將這種童年的想像和純真推到一邊--"這些事情無法挽回!",但如果可以呢? 在另一個世界,有人更好地照顧我們;在另一個時代,我們學會了擊鼓、唱歌和跳舞;在另一個地方,我們被有能力愛護我們的成年人傾聽著。 這些胸口發熱、喉嚨疼痛的感覺,那些反擊憤怒的淚水,說 "沒事 "的時候,說"沒事"的時刻,這些都應該值得一些什麼……對吧?

Morgan Possberg Denne是雙靈千禧世代的領養倖存者;與定居者、克里人、梅蒂斯人和奇佩瓦人都有血緣關係。 Morgan在第 7 條約區長大,在安大略省南部和北部都有親戚。 Morgan創作的作品充滿想像力,圖文並茂,可以被視為可能的敘事片段,透過沒有對錯之分的抽象層次,以不同的方式與過去和潛在的未來聯繫起來。 對Morgan來說,重要的不是要準確地再現過去或預測未來,而是捕捉內在的真相和殖民經驗可能的替代現實。 從某種意義上說,從一系列 "假設 "和新故事/傳說中創造出新的文化。 Morgan的作品最近在聯邦藝術中心(Confederation Centre for the Arts)和Gallery Gachet展出,並與2023 年冬季在新畫廊舉辦個展。

Jordan Baylon(他們/她/他)是第二代菲律賓裔(性別中立)藝術家、評論家和社區工作者,致力於在個人、社區和社會的各種關係空間中構想公正和豐盛,為那些應 得到平等的人爭取正義。 作為藝術家,Jordan探索酷兒和種族特徵的身份,將其視為邊緣空間:既是又不是;既在兩者之間,又穿過兩者;既在內部又在外部;既是真實的 又是想像的。 Jordan的社區實踐借助了在非營利藝術和文化領域積累的十年經驗,其中他培養了對公平、反種族主義和系統變革的批判性視角。 在經歷了多年的機構工作後,Jordan現在將興趣和注意力致力於與應得平等的個體和社區一起進行基層工作。