BILLBOARD 208 /
ᐊᑯᑳᐧᒋᑲᓂᐢ (akokwâcikanis)
Adorning the Land/Body
Danielle Elizabeth Piper

March 1, 2022 – May 30, 2022
Danielle Elizabeth Piper –ᐊᑯᑳᐧᒋᑲᓂᐢ (akokwâcikanis) Adorning the Land/Body, 2022This exhibition is on view at Billboard 208, a programming site situated on the exterior storefront of The New Gallery.
EXHIBITION DESCRIPTION /

I take great inspiration from objects in my family, beautifully crafted by the women before me. I learn from investigating their stitches, materials and colour palettes. There is immense care in the needlework; such gentle persistence in the tension of sinew through skin. The red floral is my chapan's (great grandmother's) design which I have recreated. I've also used leather pieces in this composition cut by my grandmother's hands– inherited when she passed, along with a treasure trove of beads. Here I have mixed these inherited materials with others gathered and processed by myself and my father to create a fibre landscape. Shell, deer antler, hide, porcupine quills, fish leather- my materials tell a rich story of the land and it's vast network of human and non human relations. In stitching this piece I offer my care to the land in return for the care I have received. Embroidered in red syllabics on the left side of the canvas is the word nikiskatowin, meaning meeting one another.

Territorial Acknowledgments /

TNG gratefully acknowledges its home on the traditional territories of the people of the Treaty 7 region, including the Blackfoot Confederacy (Kainai, Piikani and Siksika), Métis Nation of Alberta Region III, Stoney Nakoda First Nation (Chiniki, Bearspaw, and Wesley), and Tsuu T'ina First Nation. TNG would also like to acknowledge the many other First Nations, Métis and Inuit who have crossed this land for generations.
ARTIST BIO /

Danielle Elizabeth Piper nitsiyihkason. I am a local emerging artist and graduate of the Alberta University of the Arts, where I majored in Drawing and was awarded my B.F.A. with Distinction in May 2020. I am a band member of Cold Lake First Nations and am of nehiyaw, Métis, and denesuline ancestry.

My artistic practice is rooted in traditional craft techniques and articulated in a mixture of nêhiyawêwin- my ancestral language, and english. The labour of craft echoes the labour of reclaiming my language and cultural identity, as well as the labour required of us to build mutual understanding.

Public Programming /

March 24th, 2022 / Talk with Danielle Piper, Jasmine Piper, Tasha Devlieger and Kathryn Goy / Streaming through Twitch here.
PUBLICATION /

Danielle's accompanying publication is a collection of their own poetry. These publications are free to all, and available at The New Gallery. They will also be available at the Authentically Indigenous Market on May 7th 2022.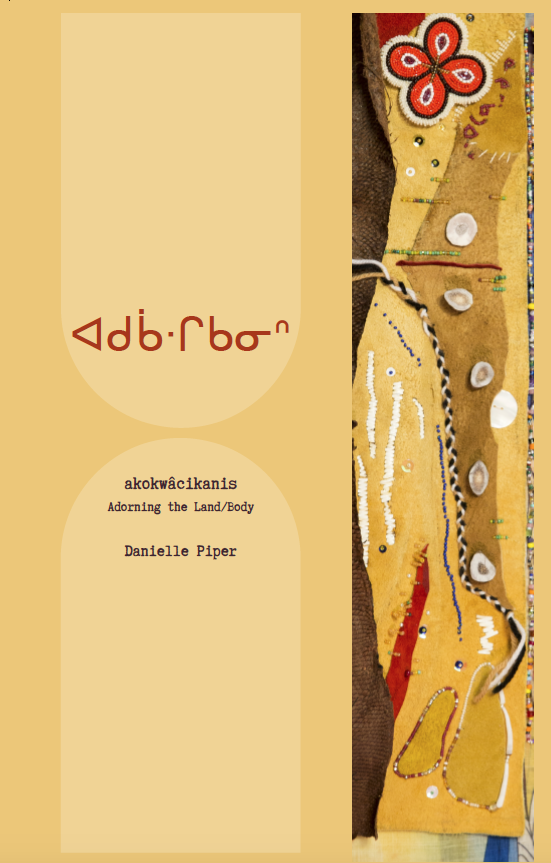 PRESS /

Danielle Piper art shows now on at Central Library, New Gallery an article featuring Danielle Elizabeth Piper's exhibitions at the Calgary Central Library and The New Gallery, by writer Aryn Toombs for Livewire Calgary. Published May 12th, 2022.