Main Space Exhibition /

Chester Vincent Toye and their work "Still from Telsa Toucher (video), 2020
What's the Value of a Dollar?

Matthew Kyba

May 27th, 2022 - July 9th, 2022
What's the Value of a Dollar? invites 6 artists and collectives to examine how profit-driven entities have historically exploited and dominated societies, communities, and bodies. Using video, installation, photography, and painting, the exhibition enfolds complex matrices of racial politics, socio-economic (dis)parity, and political agency to argue that North American economies not only exist, but flourish through marginalizing their own consumers and workforce. Capitalist frameworks feed off of subjugated bodies to reinforce economically productive hierarchies of race, culture, gender, and affluence. The exhibition's title questions how monetary capital is traded and valued against ethical, cultural, and physical sacrifice. Included works employ capitalistic visual language, which acts in protest against market-based economies. Research-based approaches are utilized to historically map capitalism's reliance on the communities it targets and marginalizes. What is the Value of a Dollar? argues that there cannot be ethical consumption and production under capitalism, and offers ways to reclaim agency by co-opting corporate tactics and language historically used to disenfranchise.

---
Opening Reception /
The opening reception & artist talk for "What's the value of a dollar?" May 27th, from 7 - 9 PM. Matt Kyba will be in conversation with Caleb Yohannes, from 7 to 8 PM, followed by a reception from 8 to 9 PM!
---
Curatorial Statement /
The exhibition furthers Matthew Kyba's curatorial interest in de-stabilizing entrenched political institutions through concentrated critique. Kyba's previous curatorial interests have attempted to provide solutions or critical engagement to economic-based issues, beginning with his creation of Bunker 2 art space in Toronto, ON – a non-profit exhibition space out of a repurposed shipping container. The venue was a response to the hyper-inflation of real estate in the Toronto, migrating artists outside the city while pushing out valuable exhibition spaces for emerging artists. He is very interested in curating under-represented and marginalized voices to examine modes of oppression and ways to reclaim agency. His curatorial imperative mirrors the beginning attitudes of Artist-Run Centres; to nuance and provide space for important cultural discourse using research-based practices as springboards for educational and perspective growth.
Artists /

Each practice investigates how economies cannibalize their producers and consumers to reinforce systems of inequality in North America and beyond. These artists/historians trace how economic practices marginalize their own communities, with corresponding understanding that seemingly futile attempts at rectifying unbalanced relationships still yield the knowledge needed for larger societal change. Rather than provide hopeful but improbable solutions, these practices offer an initial step towards equalization: informed analyses for critical assessments that provide clearer, embodied understanding of how economies marginalize and subjugate their own people. Further, the concerns, conceptual motivations and formal strategies addressed in these individual works are brought into contact in productive ways, relaying new considerations and questions through their curatorial juxtaposition and interaction.
Curator Bio /

Matthew Kyba is a curator and independent researcher. He is currently the Curator of Exhibitions at The Ministry of Culture & Tourism in Ohio. Recent exhibitions have traveled across Canada to Museum London, The Art Gallery of Hamilton, The Winnipeg Art Gallery, and many artist run centers. Upcoming curatorial projects include projects at the Art Gallery of Alberta, The Foreman Art Gallery, and AceArtInc.
---


TJ Shin's Universal Skin Salvation (2018), showcases a custom line of Korean cosmetics (K-beauty), that problematizes the fetishization of Korean skin, Asiatic femininity, and the act of carrying out corporeal damage for aesthetic beauty. Shin's works involve the production and commercialization of "desire," evolving out of the Korean War and continuing to dispossess Korean women of their own biological bodies in the present. Photos of homebrewed lactic acid beauty products of milky white and tan coloured liquids dwell in mason jars to engage in "lactification," coined by philosopher Franz Fanon to describe the desire to whiten one's race. Shin's DIY and potentially dangerously homebrewed custom K-beauty products (lotions, mist sprays, and serums) elucidate the bodily and cultural damages that skincare economies implicate, questioning the racial and gendered frameworks that are built upon consumers in order to uphold beauty economies.
---




Patrice Renee Washington's Spoil'd (2018) series of clay wall reliefs and crates, appropriates historical advertisement imagery depicting Black subjects and stereotypically African-American foods. Exploring racist imagery that is now understood as unsuitable for public consumption, Spoil'd examines how advertising economies have historically and routinely typecast marginalized bodies for North American commercial exploitation—an action which serves to both appease white consumer stereotypes as well as reinforce problematically racialized representations directed towards audiences of colour. The use of black and white glazes on clay borrow formalist and minimalist aesthetics, acting as disarming elements in relation to the latent racism and exploitation of bodies that the series suggests. Spoil'd speaks to how advertisers employ racist stereotyping and assumptions about ethnicity (for example, racialized imagery of ethnic foods) to both privilege and promote specific modes of consumption while appealing to white expectations.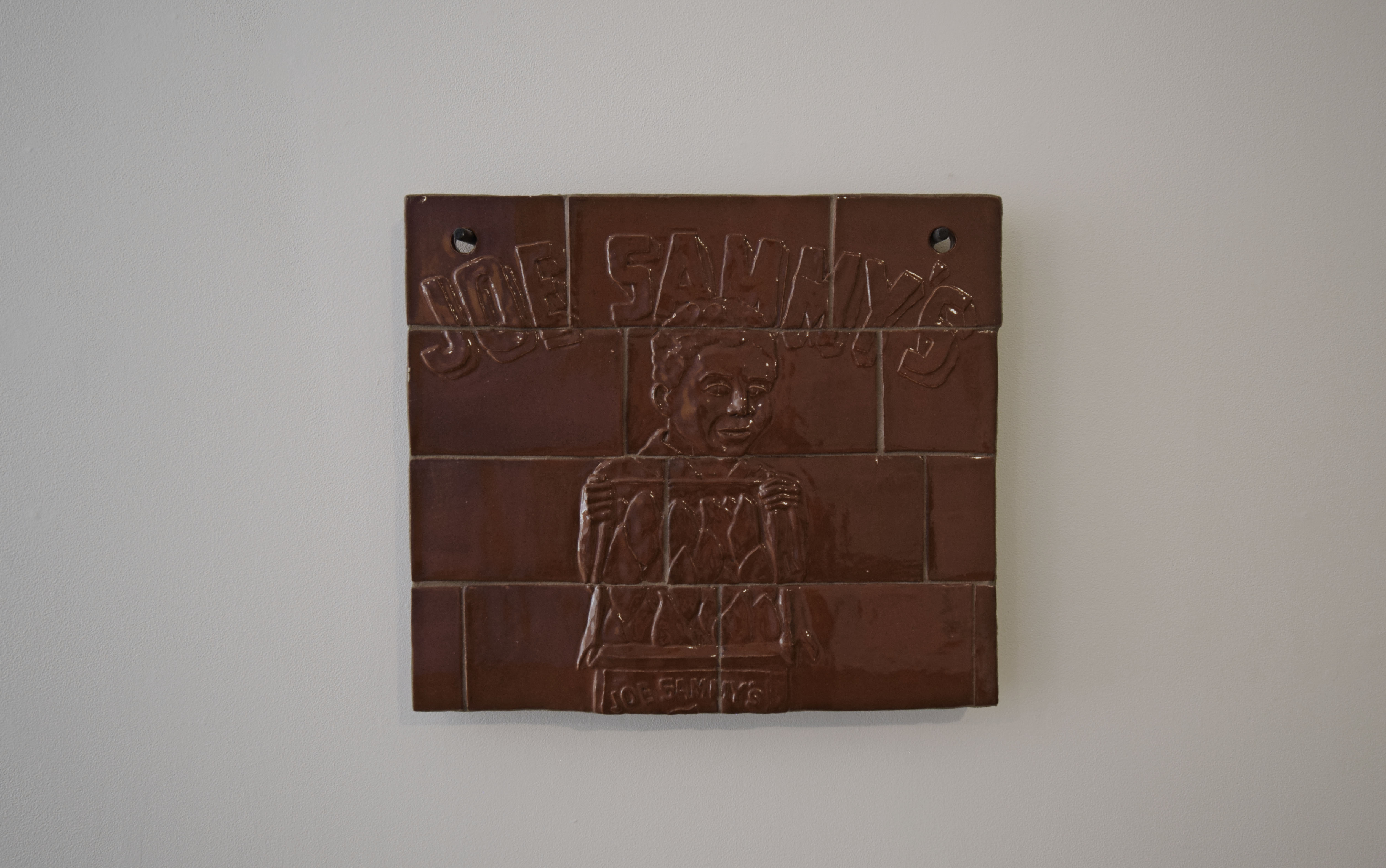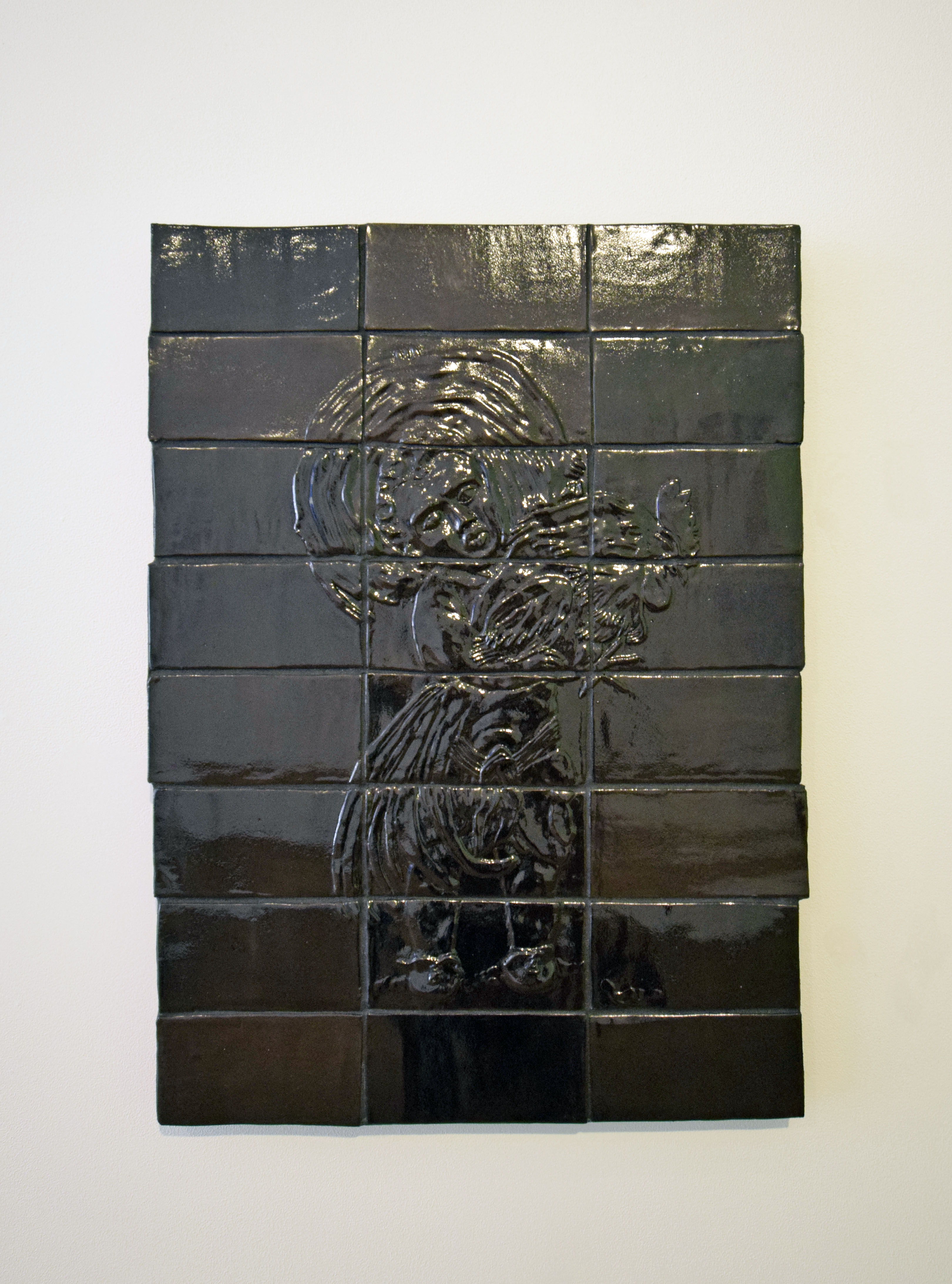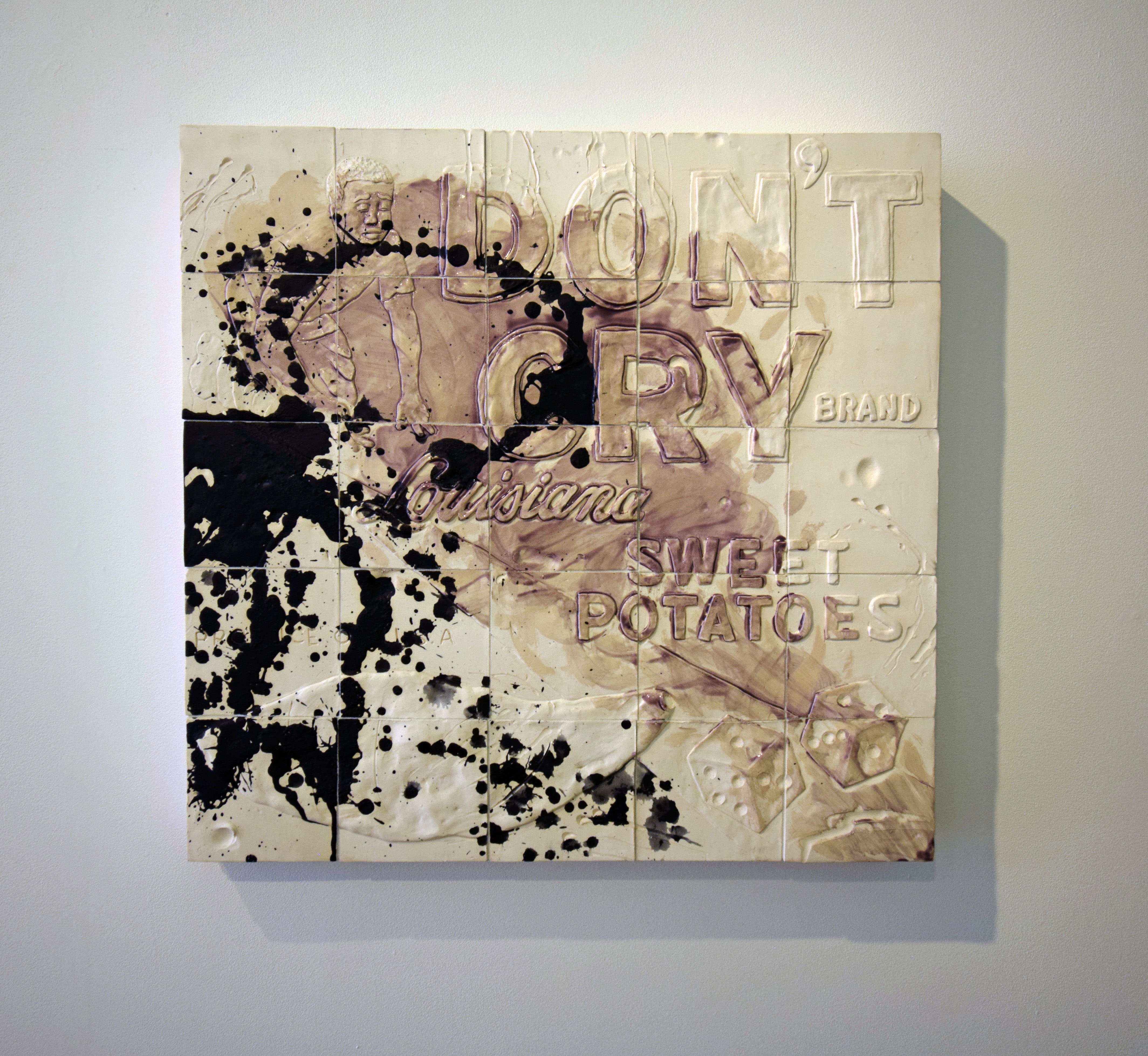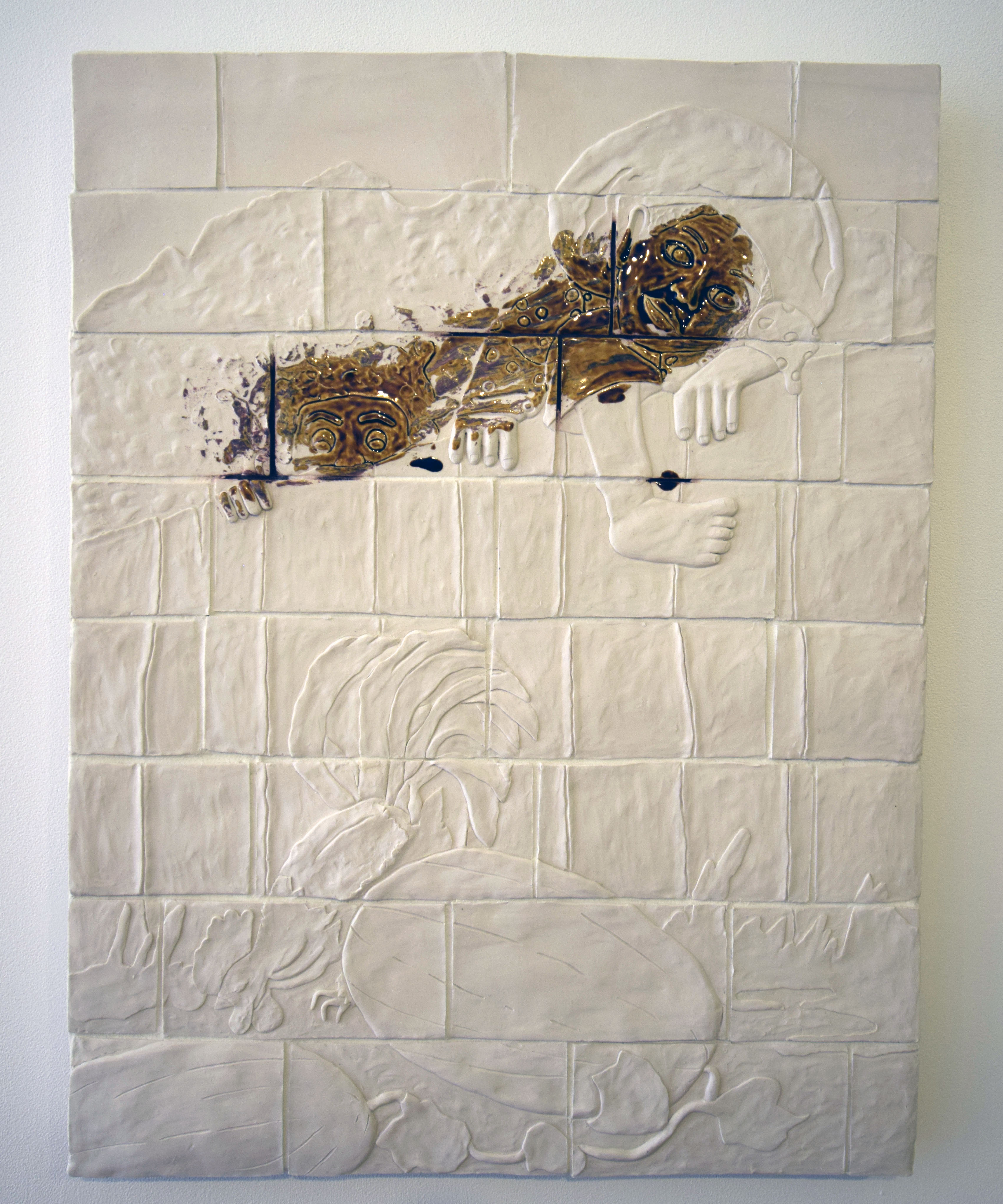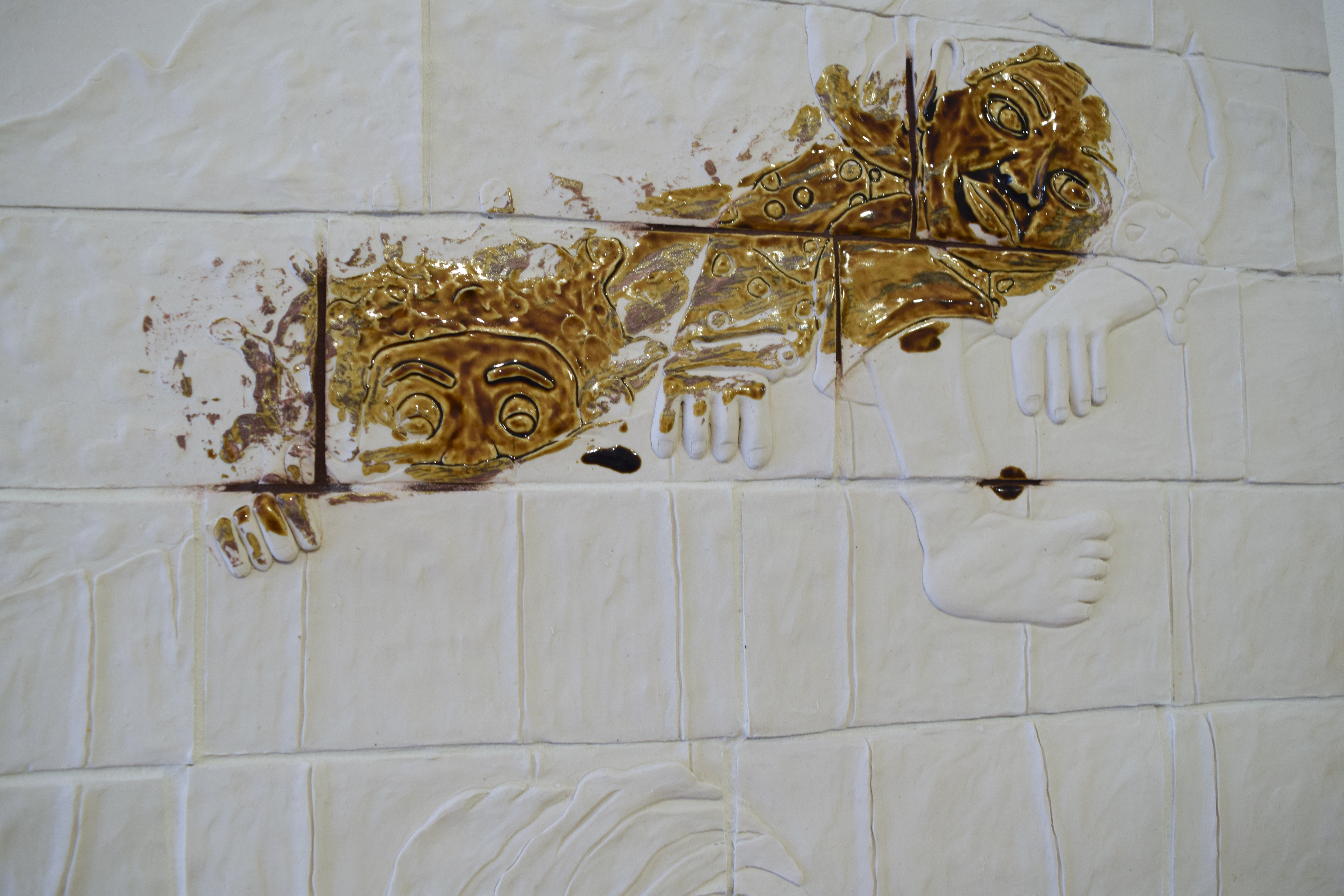 ---



Interested in financial-based realms, Sean Weisgerber's site-specific intervention covers one of the gallery walls in neon price stickers. These price markers, when added together, equal the total artist fee paid to the artist in each square inch area. Devoid of other aesthetic signals, the series asserts and criticizes art's contemporary, primary function as commodity, positioning the artist as a dependent servant to commercial art markets. Weisgerber examines how historical economic disparities between artists and economic stability have set into motion an unassailable power dynamic that always favours those with means.
---

The GTA Collective's Gentrification Tax (2018) installation attempts to resist the predatory real estate market through their campaign for a Gentrification Tax in Toronto – a declining percentage tax applied to specific homes used to support local community-controlled housing initiatives. The installation, centred around a melancholic plea lamenting the emigration of communities due to gentrification, also features quantitative research as a thoughtful-if unlikely solution for cultural and societal survival in the face of the ever-expanding capitalist nature of urban centers. Real estate economies consume communities through strategies of gentrification, continually increasing the affluence-status of areas in non-stop cycles of inclusion and exclusion.
---
Chester Toye's Tesla Toucher (2019) collects over two years' worth of attempts at filming themselves going up to a Tesla car and touching it gently. The subtle social subversiveness demonstrated (the act of putting one's hand on someone else's property) is magnified by the interaction with a luxury commodity car, an entity that defines a specific socio-economic class. The durational video includes almost 20 minutes of rough-cut footage of Toye gently swiping their hand along each logo. Toye's work speaks to latent social norms and the implications of simply touching an owned object of wealth. Dreaded value (2019) is an uninterrupted webcam video of Toye also engaging with economic systems, this time attempting to monetarily quantify each of their dreadlocks. 88 of these were measured against the artist's current net worth, resulting in an approximate value of each one of the hair locks. Both projects act seemingly simple and innocuous to question greater understandings of race, bodily value, and self-worth.
---




Finally, Shellie Zhang's Means of Exchange (2019) examines the phrase "Made in China" and its use synonymously with the phrases "poorly-made" and "mass-produced". How are acts of labour devalued when regulated to other countries and made invisible? Photographing items that originated from the city of Yiwu, CN (a global supplier of dollar store merchandise), Zhang's series is a reflection on consumption while examining how objects translate culture, and the limitations of understanding through commerce, trade and mass-produced goods.
---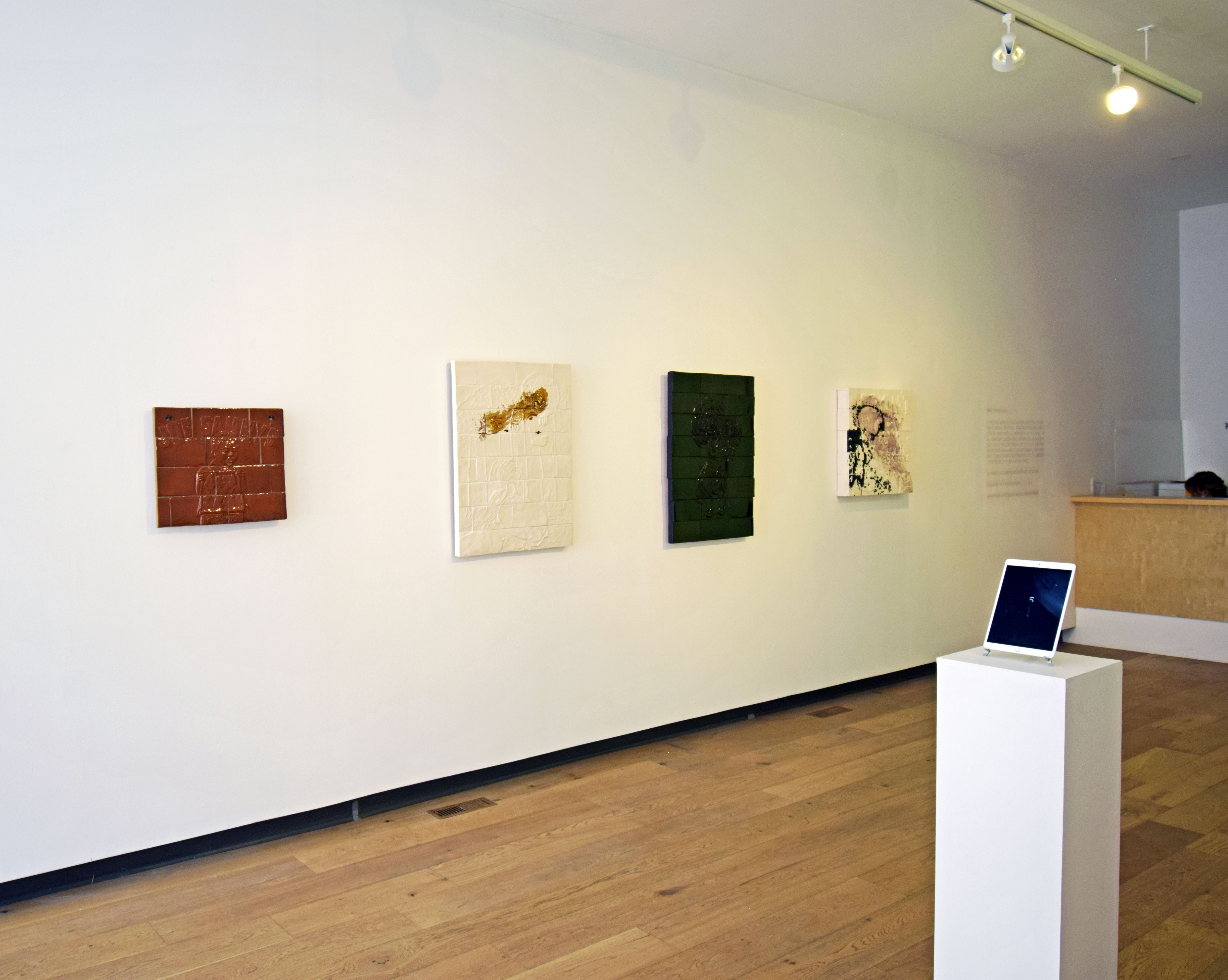 Background Image: Sean Weisgerber's site-specific intervention, 2022

The GTA Collective acknowledges the support of the Canada Council for the Arts.

中文翻译 Chinese Translation...

展覽標題:一塊錢的價值是什麼?


藝術家簡介:Matthew Kyba是一位策展人和獨立研究者。他目前是俄亥俄州文化和旅遊部的展覽策展人。他最近的展覽在加拿大各地-倫敦博物館、漢密爾頓藝術館、溫尼伯藝術館和許多藝術家經營的中心舉辦。即將開展的策展項目包括在阿爾伯塔藝術畫廊、福爾曼藝術館和AceArtInc。


簡介:一塊錢的價值是什麼?邀請了6位藝術家和集體來研究利潤驅動的實體如何在歷史上剝削和支配社會、社區和身體。展覽使用視頻、裝置、攝影和繪畫,囊括了種族政治、社會經濟(不)平等和政治機構的複雜矩陣,以論證北美經濟不僅存在,而且通過邊緣化他們自己的消費者和勞動力而繁榮。資本主義框架以被奴役的身體為基礎,強化了種族、文化、性別和富裕程度的經濟生產等級。展覽的標題質疑貨幣資本是如何與道德、文化和身體的犧牲進行交易和估價的。作品包括了採用資本主義的視覺語言,這是對市場經濟的抗議。基於研究的方法被用來歷史性地描繪資本主義對其目標和邊緣化的社區的依賴。一塊錢的價值是什麼?論證了在資本主義下不可能有道德的消費和生產,並提供了通過共同使用歷史上用來剝奪權利的企業策略和語言來重新獲得代理權的方法。


簡介(更詳細版本):一塊錢的價值是什麼?邀請了6位藝術家和集體來研究利潤驅動的實體如何在歷史上剝削和支配社會、社區和身體。展覽使用視頻、裝置、攝影和繪畫,囊括了種族政治、社會經濟(不)平等和政治機構的複雜矩陣,以論證北美經濟不僅存在,而且通過邊緣化他們自己的消費者和勞動力而繁榮。資本主義框架以被奴役的身體為基礎,強化了種族、文化、性別和富裕程度的經濟生產等級。展覽的標題質疑貨幣資本是如何與道德、文化和身體的犧牲進行交易和估價的。作品包括了採用資本主義的視覺語言,這是對市場經濟的抗議。基於研究的方法被用來歷史性地描繪資本主義對其目標和邊緣化的社區的依賴。一塊錢的價值是什麼?論證了在資本主義下不可能有道德的消費和生產,並提供了通過共同使用歷史上用來剝奪權利的企業策略和語言來重新獲得代理權的方法。


TJ Shin的Universal Skin Salvation(2018年)展示了韓國化妝品(K-beauty)的定制系列,對韓國人的皮膚、亞洲人的女性氣質以及為審美而進行身體傷害的行為提出了質疑。 Shin的作品涉及到 "慾望 "的生產和商業化,從韓國戰爭中演變而來,並在現在繼續剝奪韓國婦女自己的生物身體。自製乳酸美容產品的照片,這些乳白色和棕褐色的液體住在泥瓦罐裡,進行 "乳化",這是哲學家Franz Fanon創造的,用來描述美白自己種族的慾望。 Shin的DIY和潛在危險的自製K-beauty產品(乳液、噴霧劑和精華液)闡明了護膚經濟所牽涉的身體和文化損害,質疑為了維護美容經濟而建立在消費者身上的種族和性別框架。


Patrice Renee Washington的Spoil'd(2018)系列粘土牆浮雕和板條箱,挪用了描繪黑人主體和刻板的非洲裔美國人食品的歷史廣告圖像。探索現在被理解為不適合公眾消費的種族主義圖像,Spoil'd審視了廣告經濟如何在歷史上和常規地將邊緣化的身體塑造成北美的商業剝削--這種行為既是為了安撫白人消費者的刻板印象,也是為了加強針對有色人種觀眾的有問題的種族化表現。粘土上黑白釉的使用借用了形式主義和極簡主義的美學,作為與該系列所暗示的潛在的種族主義和對身體的剝削有關的解除因素。 Spoil'd講述了廣告商如何利用種族主義的陳規定型觀念和關於種族的假設(例如,種族食品的種族化圖像),在吸引白人的期望的同時,既享有特權又促進特定的消費模式。


Sean Weisgerber對基於金融的領域很感興趣,他的現場特定乾預措施用霓虹燈價格貼紙覆蓋畫廊的一面牆。這些價格標記,加在一起,等於每平方英寸區域內支付給藝術家的總費用。在沒有其他審美信號的情況下,該系列作品宣稱並批判了藝術作為商品的當代主要功能,將藝術家定位為商業藝術市場的附屬僕人。 Weisgerber研究了歷史上藝術家和經濟穩定之間的經濟差距是如何啟動了一個不可動搖的權力動態,總是有利於那些有經濟能力的人。


GTA Collective的Gentrification Tax(2018)裝置試圖通過他們在多倫多的Gentrification Tax運動來抵制掠奪性的房地產市場--對特定的房屋徵收百分比下降的稅,用於支持當地社區控制的住房計劃。這個裝置,圍繞著一個憂鬱的請求,哀嘆社區因紳士化而移民,也以定量研究為特色,作為在城市中心不斷擴大的資本主義性質下,文化和社會生存的一個深思熟慮的--儘管不太可能的解決方案。房地產經濟通過紳士化的策略消耗社區,在不停的包容和排斥的循環中不斷提高地區的富裕程度。


Chester Toye的特斯拉触摸者(2019)收集了两年多来拍摄自己走到特斯拉汽车前轻轻触摸的尝试。所展示的微妙的社会颠覆性(将自己的手放在别人的财产上的行为)被与豪华商品车的互动所放大,这是一个定义特定社会经济阶层的实体。这段持续的视频包括近20分钟的粗剪镜头,Toye沿着每个标志轻轻地刷着他们的手。Toye的作品讲述了潜在的社会规范,以及简单地触摸一个拥有财富的物体的影响。可怕的价值(2019年)是一个不间断的网络摄像头视频,Toye也参与了经济体系,这次试图对他们的每个辫子进行货币量化。其中88个被衡量为艺术家目前的净资产,从而得出每一个发绺的近似价值。这两个项目看似简单无害,却对种族、身体价值和自我价值的更大理解提出质疑。


最后,Shellie Zhang的交换手段(2019)研究了 "中国制造 "这一短语及其与 "劣质制造 "和 "大规模生产 "等短语的同义使用。劳动行为在被管制到其他国家并被忽视的情况下是如何被贬低的?拍摄来自中国义乌市的物品(一美元商店商品的全球供应商),Zhang的系列作品是对消费的反思,同时审视物品如何体现文化,以及通过商业、贸易和大规模生产的商品理解的局限性。


每一个实践都在调查经济如何吞噬他们的生产者和消费者,以加强北美和其他地区的不平等体系。这些艺术家/历史学家追踪了经济实践如何使他们自己的社区边缘化,并相应地了解到,纠正不平衡关系的看似徒劳的尝试仍然产生了更大的社会变革所需的知识。这些实践不是提供有希望但不可能的解决方案,而是提供了迈向平等的第一步:为批判性评估提供知情分析,对经济如何边缘化和奴役他们自己的人提供更清晰、具体的理解。此外,这些单独的作品中所涉及的关注点、概念动机和形式策略以富有成效的方式被带入接触,通过其策展人的并列和互动传达新的考虑和问题。