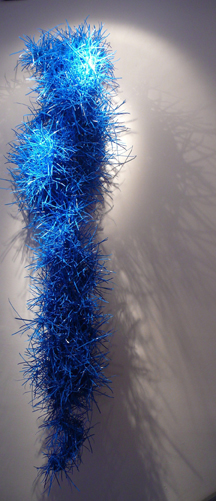 Thetta er Esjublátt (This Is Mount Esja Blue)

Svava Juliusson

+15 Window Exhibition
December 3, 2011 to January 29, 2012

Svava Juliusson will present a unique sculptural installation constructed with various sizes and colours of plastic cable ties, inspired by her recent return "home" to Iceland.


At the core of Svava Thordis Juliusson's recent work, is the activity of tying one cable tie to another, or conversely a plastic tie to a tree root, until the impression of a cloud or ghost-like mass emerges. As she works, further reward is in finding suggestions of real and imagined environments, as well as discovering references to her own body and personal history. A connection to her country of birth figures strong in the work – titles often come to her in Icelandic, while the aesthetic considerations are drawn from the colour, shape and texture of the landscape of Iceland.