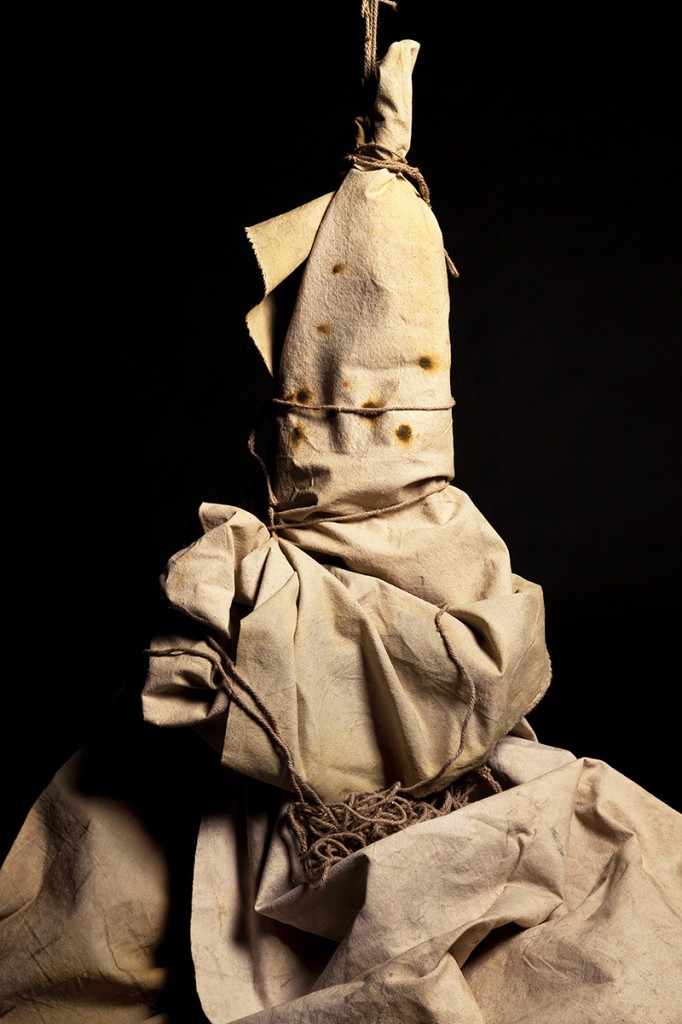 Relics on Trial

Jennifer Laiwint


+15 Window Exhibition
February 6 to March 28, 2015


How trauma is expressed in our bodies, our memory, and our relationships are the questions that preoccupy my art practice. What do we do with those stories that have been passed on and felt through generations? Is there a possibility of responding to a call to remember and at the same time freeing ourselves from this duty?

Woven through the narratives of my grandparents' testimonies of survival during the Holocaust, are astonishing tales of hiding and escape. Survival for them meant hiding in forests and sheds, concealed behind trees or shrouded in found materials. Their stories exist, for me, in the realm of inherited memory and imagination, feeling both impossible to grasp and terrifyingly palpable. My point of access to these stories is through an interaction with materials; forming them into objects imbued with feeling and transformed into constructed relics and remnants of trauma.

In Relics on Trial I use objects found in the basement of my grandmother's house, old push-through rope that was used to clean the inside of guns and parts of rifles that were never fully formed. Other new materials have been stained, snarled, damaged and reconstructed. Through these processes a curious intimacy develops with materials; they become animate elicitors and receivers of aggression, judgment and ambivalence. They take on the role of the solitary perpetrator and the persecuted. With each fraught encounter, there arises an opportunity to access and act out personal and/or imagined distress and imbue the materials with dreams, fears and fantasies. Consequently the materials become conduits to working through and disentangling the ways in which inherited trauma can become enacted and histories of violence can be transmitted, transformed and reconstructed over time.




Biography

Jennifer Laiwint is a Toronto-based artist and recent graduate of York University's Visual Arts program, focusing in photography and installation. She is currently working as a Photography Practicum Participant in the Visual Arts Department at the Banff Centre. Jennifer has exhibited her work in galleries around Toronto, Montréal, and in New York City. She recently completed a residency at the Dragon Academy in Toronto and was the recipient of the Senior Photography Award at York University. She has also been a member of the working collective at Whippersnapper Gallery and a photography facilitator at the Creative Works Studio, an arts-based mental health outreach centre in Toronto.