OFFSITE /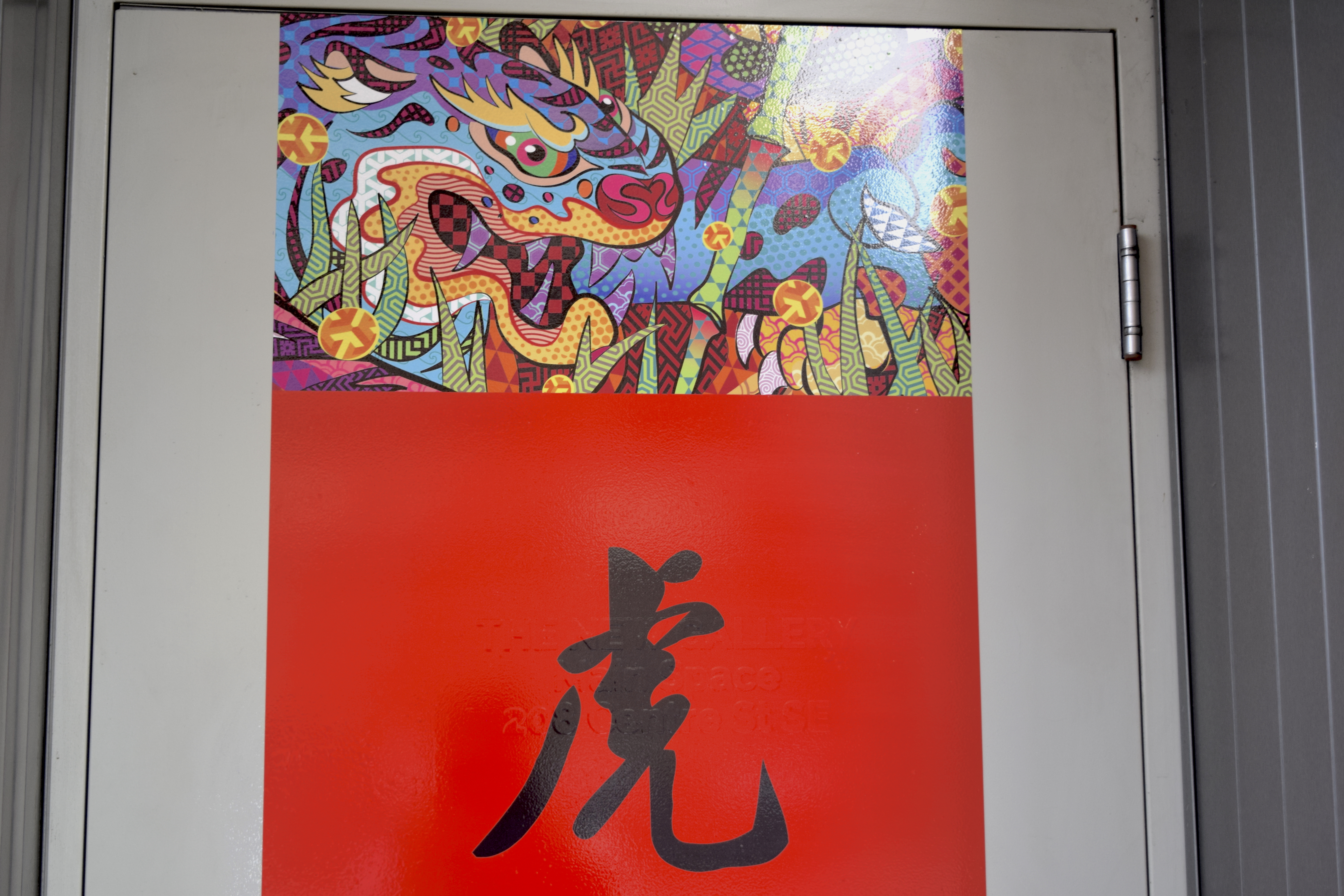 壬寅春貼 Lunar New Year Banner

The literal translation of the four words in the title above are Water Tiger LNY Banner. Rather than a number like 2022, each year has two words, think of it as two dials that rotate to combine as a year name. You may notice the word tiger 寅 is different from the tiger 虎 below, the former is only used to indicate the calendar year whereas the latter is the animal.
Words of blessing to welcome the new lunar year: 虎躍龍騰
The English translation: Tiger Leaps, Dragon Soars
The red banner is hung on doors and walls to welcome all the good fortune and prosperity into your home or business for the new year. The New Gallery壬寅春貼 Lunar New Year banner will bring good fortune to the community!
Curator's Bio /
馬鳳齡 Fung Ling Feimo
is an arts enthusiast; she is passionate about arts and culture. Her work in not-for-profits as well as arts administration has taken her many places, supporting artists and engaging communities. During the Cultural Capital, Fung Ling and the Calgary 2012 team championed community support for arts and culture, and funded hundreds of arts organizations and many more artists. "Heritage Buildings could Talk" is the name of a Chinatown Heritage Project that she completed in 2019, which includes the
Chinatown Context Paper
that will inform the Cultural Plan. In addition to projects within the community, Fung Ling has also been involved with Indigenous projects that include the launching of Making Treaty 7, in 2012. She now draws on her rich experience to contribute to the Tomorrow's Chinatown Advisory Group.
In the summer of 2021, she was encouraged to write some more:
"Reflections on Exclusion and Other Things in the Dark"
, an essay published by the City of Calgary as part of the James Short Park renaming process. Fung Ling
shared some things
on the City's engagement webpage about being provoked by a utility box and in response, created a public art exhibit to address erasure and reclaim the narrative for the community. Some of the artwork is also featured on the Mural Map of Canada,
here
and
here.
Though a long-time Calgarian, she will always call Montréal her hometown (and still gets asked "Where are you really from?").
Artist Bios /

Wil Yee is a multi-disciplinary artist and graduate of the Alberta University of the Arts. He spent countless summers with his grandparents in the heart of Chinatown before becoming a permanent resident of Calgary. Known for his murals and public artwork in Crescent Heights and on Memorial Drive, he is also a custom tattoo artist. The "Time and Tigers", created for utility boxes in Chinatown, is inspired by the colours of theatrical make-up and designs in Cantonese opera.

Keyan Zhang is a Graphic designer, Illustrator, and Calligraphy Artist living in Vancouver, British Columbia. She graduated from Simon Fraser University's Master of Publishing program.

She started her design career working for an art and literature magazine in Vancouver, Ricepaper, as a Design Editor, and worked in-house for the University of Calgary Press as a Design and Publishing Assistant. Currently, she works as a Designer at PwC.

When not creating digital work on her laptop, Keyan strives to practice painting and calligraphy in a traditional way, working on a piece of paper with pen and brush. Her material includes watercolor, gouache, and ink. She loves to take inspiration from nature and the culture she experiences and to create arts without boundaries.