Main Space Exhibition /
Little México
Carlos Colín

May 5 - June 17, 2023
Photos courtesy of the artist
---

SAWP (Sessional Agricultural Worker Program) was created in 1966 originally between Canada and Jamaica. The program started after farmers from Ontario needed workers to fill the labour demand during the apple harvest season. In 1974, Mexico joined the program becoming the largest provider of labourers through SAWP across Canada. The province of British Columbia joined the program in 2004, and since 2016, 472 employers in the province have received over 5400 farm workers from Mexico. These Canadian farmers, in order to justify the request for Mexican labourers, must establish that there are no Canadian residents able to fill these labour positions.


The project Little México critically engages with the community of Mexican labourers, their socio-political-cultural diasporic contribution to British Columbia, where the project was created, and Canada. These body of artworks examine the significance of the merging of symbols between Latin American conceptualism art style and Latin American history, past and present, and its diaspora in Canada. Moreover, Little México explores the Mexican farm workers' relationships and connections with their families in Mexico, communal life in Canada, their political activities, and the reality of their economic situation including work opportunities in Canada and Mexico through the Seasonal Agricultural Worker Program (SWAP). I use the term "sporadic diaspora" to define the constant human dislocation where one or more members of these Mexican worker family members have the need to leave their place of origin, families and communities.

---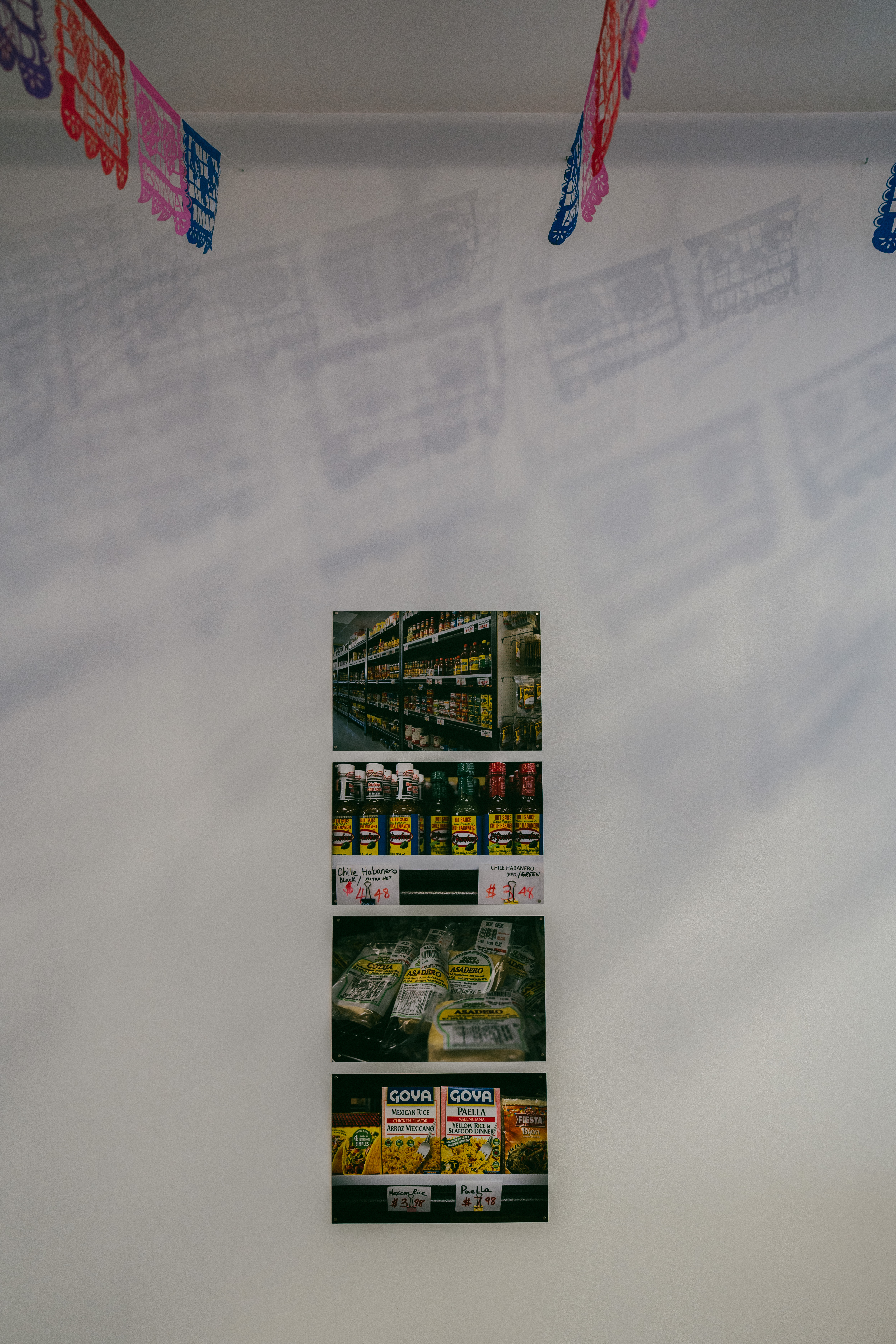 Documentation by Danny Luong
---
Land without freedom is dust
Essay by Rocio Graham
Land and Freedom! (Tierra y Libertad) reads the poster in Carlos Colín's Little México exhibition, a phrase that became iconic during the Mexican revolution. Those two encompassing words stir up a lot of emotions in me as I have to revisit and reflect on the troubled land reform history of my birth country, and how those words send shockwaves in my new country, with its own problematic land affairs. The Mexican revolution sought to reclaim lands in México held by the government and elites, and disburse them with the promise of self-agency and economic development for farmers and indigenous peoples dispossessed due to colonization. Although hundreds of thousands of farmers gained land ownership, the land reform did not see its potential and instead became oppressive, since land without infrastructure to work with is dust. Slowly, over time, the Ejidatarios (the name for new landowners) had to sell their lands back at bargain prices to the wealthy and corporations; many of these lands now are owned by foreigners.

Similarly, in Canada, land justice seems suspended in nevermore. Indigenous communities are left with the burden of untangling the webs of the current systems of oppression, waiting for reparations that are overdue. In México, after the failure to thrive in their own country post-revolution, farmers have to seek opportunities in other countries. The Seasonal Agricultural Worker Program became a gateway for many of them; now, over 5,400 farm workers from Mexico are part of our Canadian society, at least on a temporary basis.

When we see Carlos Colín's Tierra y Libertad poster with the black and white illustration of Emiliano Zapata (a leader in the Mexican revolution) in a Canadian gallery context, I immediately see parallels to the current affairs of indigenous people. The poster becomes a solidarity signifier to Indigenous sovereignty and the Land Back movement. It is an invitation to consider the vast complexities of land economic development in our country and its colonial, extractive practices.

Carlos Colín's exhibition Little México is provocative, reflective, and nuanced in his approach to highlight the multi faces of the Mexican migrant workers' lives peppering the fields in the xʷməθkʷəy̓əm (Musqueam), Sḵwx̱wú7mesh (Squamish), and Sel̓íl̓witulh (Tsleil-Waututh) Nations, known as the BC lower mainland.

Little México features an installation of a shelf holding Mexican groceries dedicated to Mexican goods in a Filipino convenience store that Colín visited during his research for the development of this exhibition. It offers a glimpse of the many intertwined and symbiotic microcosmic relationships that happen inside a mini market, and, as Colín explains, "reference how the locals [Canadians] understand what kind of culture we have, based on their own approximation to the culture through the [Mexican] products offered on the market shelves". The mini market becomes a repository of diverse material culture, and as Colín puts it, allows "conversations through the [pantry] objects that we move around". It is an exchange of culture that brings us closer in the microcosm of the mini market.

This exhibition presents old themes of migration, exploitation, resistance, and the self-agency developed by farm workers navigating their new home in Canada. It is a story that repeats itself, a testament to the effectiveness of colonialism.

Like the muralist movement in México during the Mexican Revolutions in the 20's and 40's and the Chicano art movement in the USA in the 70's, the new wave of Mexican-Canadian artists, that I call "Canukcanos", work with temporary Mexican migrant workers to position their stories such that they are centrefold in our lives through an Indigenous futurism lens; breaking from the colonial ways of telling these stories that positions them as pitiful. As Carlos stated in a conversation with me, "I am against this big narrative of the Latin-American always suffering because we left our place". Instead, his exhibition showcases portraits of Mexican migrant workers by photographer Gabriela Rosas that demonstrate their humanity and relatability from a dignified place in the Canadian social tapestry. "I am a partisan with the people not with the left or right", he states. When probed, he addresses his desire to move away from positioning himself in the middle of the sometimes conflicting interests of the government institutions responsible for the Seasonal Agricultural Worker Program (SAWP), and the various activist groups that advocate for them in Canada.

Colín presents an installation displaying a collection of postcards with images of the Philippino grocery store used by migrant workers to buy Mexican products and send money home to their families. The reason why they come, after all, is to care for their families at home. Gallery visitors are invited to also send postcards to loved ones away from home, opening the conversation about cultural dissemination and social exchanges that happen spontaneously. Providing agency to the viewer to disseminate these postcards freely demonstrates the power of the individual to help advance social justice, or to hinder it. The viewer can energize the conversation about equitable treatment of migrant workers in this country and their inclusion in the Canadian social tapestry.

My own upbringing as a mestiza woman raised by an Ejidatarios family in rural Mexico, and the fact that I also work with migrant workers in the interior of BC, makes this exhibition highly personal. To write about Carlos Colín's exhibition, I had to revisit the Mexican government's narrative of land reform that I learned as a student in México. The indoctrination that I was subjected to during my school years has taken time to shed. Revisiting the way we connect to and share land resources through an eco-feminist and indigenous futurist lens, allows me to see how us "Canukcanos" artists are left with the task of reframing the conversations about "land back / agency back" in a way that breaks the divide. It starts with the gentle acts of showing our people in their fully dignified humanity in public spaces. It starts with acknowledging that their stories and agency (although shared), belong to them only. We are only activating a space for the community to come together and understand that without sharing this land, we cannot truly have freedom.

---
Exhibition tour with Carlos Colín
May 5th, 6PM - 7PM, 2023 @ The New Gallery
---
Carlos Colín

(Mexico, 1980) currently lives and works between Mexico City and Vancouver, Canada. He is a visual artist and PhD candidate in the Interdisciplinary Studies Graduate Program at UBC. He has exhibited his artwork in the Latin American biennial BIENALSUR in 2021 and in venues like; AWA Cultura in Caracas Venezuela, The Reach Gallery Museum in Abbotsford, Grunt Gallery in Vancouver, Art Gallery of Greater Victoria, in BC, Sur Gallery in Toronto, Galería de la Raza in San Francisco and Rufino Tamayo Museum in Mexico to name a few. Colin was awarded the 2016 Emerging Artist, Mayor's Arts Award for the City of Vancouver in Visual Arts nominated by Dana Claxton, the 2017 Artist Studio Award Program, and the Canada Council "Research and Creation" grant in 2018 and 2020. Carlos is represented by Fazakas Gallery in Vancouver.

Rocio Graham is a photographer currently based in Calgary. Born in Mexico, she emigrated to Canada in 2002, studying art at Emily Carr University and the Alberta College of Art + Design, where she recently obtained a Bachelor of Design in Photography. Her poignant still lives are influenced by her cultural heritage, identity as a woman and mother, and reflections on life cycles. Fittingly, Graham's home and garden serve as her studio—a centre for research and development—where her elaborate compositions begin the moment she selects a seed to nurture in the spring until the final stages of decay and decomposition in the cold winter. She finds that this constant shift of landscape allows her to explore it not only as a physical space, but as a mystical one.