MAINSPACE EXHIBITION /
Form(al) Economics

Grier Edmundson

January 9 to February 14, 2015

Grier Edmundson's exhibition at The New Gallery comprises property cards from the board game Monopoly, the figure of Thomas Malthus (an 18th Century British philosopher and economist who re-envisioned the notion of rent for our modern infrastructure), and a now-disputed series of Warholian Brillo Boxes that were commissioned and then sold as originals by Swedish curator Pontus Hulten. These elements, in conjunction with an intimate series of personal objects, are combined to create a playful ensemble of works that challenge contemporary thinking about "value" in the abstract sense as well as its purportedly concrete historical constructions.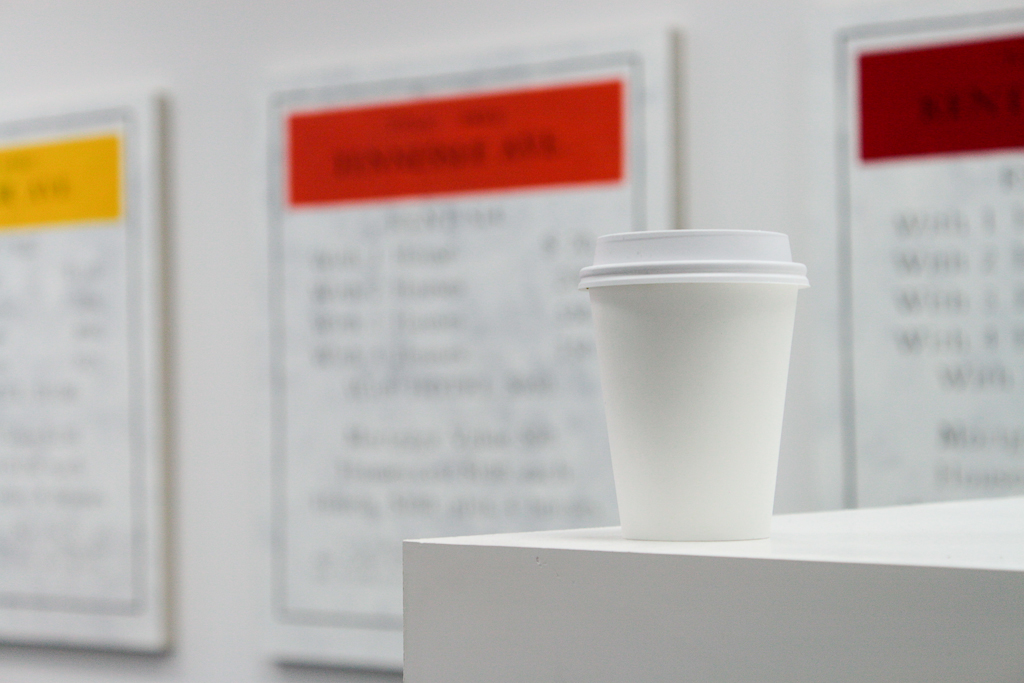 Essay: Formal Economies

On the heels of a recent exhibition in which a series of painstakingly-executed interpretations of Martin Kippenberger's Preis Bilder (1987) have been overpainted with text borrowed from Monopoly, Grier Edmundson's Form(al) Economics further exploits the classic property trading game's distinctive design and typography as a site for détournement.

The current exhibition gives its title to a set of enlarged Monopoly cards, painted with primary and secondary colors. Also on view is a smaller painting (executed after a portrait of Thomas Malthus by John Linnell, 1833), a custom-designed wallpaper featuring a field of empty pocketed Rich Uncle Pennybags, as well as a neon piece spelling the word "content." In keeping with his frequent treatment of exhibitions as installations, the artist also makes use of sculptural elements and found objects. A group of stacked plaster cubes takes up his previous involvement with Pontus Hulten's controversial replications of Andy Warhol's Brillo boxes. Mundane commodities (a bowl of Cheerios, rubber boots, a desk lamp, and two porcelaine figurines) provide an additional echo to the works' evocation of domestic life as a context for the production of subjectivity and the pervasiveness of economic circumstances.

Edmundson has long been interested in the historical construction of value and in what might best be described as a rhetoric of limits. Documentation of historical projects, innovations, and utopias—ranging from unpredictable successes to tragic failures—have regularly appeared in his work. In Form(al) Economics, perhaps his most autobiographical exhibition to date, the limits in question are those of the interconnections between economic, artistic, and domestic modes of value formation. The relationship of idleness and play to didactic procedures has already been addressed by the artist—as in Sometimes I am content (2011)—but the theme of material and psychological resource exploitation has not yet been so clearly evoked in the work.

As it turns out, the idea of the availability of resource as "content" provides an interesting glimpse into Edmundson's practice. Indeed, rather than the construction of value itself, it is perhaps the mediation of value (the way in which "form" is understood to relate to "content") that seems to focus his interest. In particular, the relationship between photography or text as vehicle for the social mediation of value and painting as an object of aesthetic (and, in this case, financial) value, could be considered a central aspect of the work. Surely, it is no coincidence that all three mediums are linked by their shared mnemonic function.

Edmundson's habit of painting from text and found photographs, his re-reading of methodological protocols inherited from photo-conceptual practices (language-games, duplication, inversion, mirroring), and simultaneous investigation of heterogeneous historical genres (involving skillfully executed stylistic paraphrases) can all be said to problematize the form/content dichotomy. This dichotomy's relationship to visual and textual language is in fact foundational and grounds the very process of value formation/mediation. Edmundson's approach to individual works and mediums, as much as his understanding of the "curatorial syntax" of exhibition procedures and models as work, are informed by such considerations.

In this respect, Form(al) Economics upholds one of the most consistent tropes in the artist's practice: the juxtaposition of split visual registers as critique of monological thought. The work may indeed be said to be plural, on behalf of the singularity of lived events. Both work and life are thus paradoxically shown to be perpetually pitted against—as well as simultaneously weaved into—the broader fabric of discursive and historical repetition.

– François LeTourneux



Biographies

Grier Edmundson holds a BFA from the Maryland Institute College of Art in Baltimore and an MFA from the Glasgow School of Art. He has had recent solo exhibitions at Centre Clark (Montréal), Kendall Koppe Gallery (Glasgow), Fourteen30 Contemporary (Portland), Battat Contemporary (Montréal), and PowerHouse (Memphis). His work has been featured in numerous group exhibitions including the 2011 Québec Triennial (Montréal), I'm Not Here: An Exhibition without Francis Alÿs at the de Appel Arts Centre (Amsterdam), Samedi, Samedi at Galerie Art Concept (Paris), and The State with A. Vermin at Glasgow International 2008 as well as a two-person exhibition with Julie Favreau at Erin Stump Projects (Toronto). He lives and works in Montréal.

François LeTourneux is Guest Professor in the Art History and Film Studies Department at Université de Montréal. He was previously Associate Curator at the Musée d'art contemporain de Montréal (2008–2014), where he curated monographic exhibitions on the work of artists Etienne Zack (2010), Jon Pylypchuk (2011) and Lynne Cohen (2013–2015). He was also co-curator of the group exhibitions La Triennale québécoise 2011 and Zoo (2012). During this period, he directed public programs at the Musée and presented five editions of the Max and Iris Stern International Symposium, including Manufacturing Exhibitions (2011–2012), Abstraction (2013) and Remontage/remixing/sharing: technologies, aesthetics, politics (2014). François LeTourneux holds a PhD in Art History from Université de Montréal.

The New Gallery would like to extend a special thank-you to Samantha Lucy for assisting in the production of this show.