Main Space Exhibition /
Distant water will not quench a nearby fire
Petrina Ng
in collaboration with
Amy Lam
,
Serena Lee
,
Morris Lum
,
Amy Wong
,
Teresa Tam
, and
Lan "Florence" Yee
January 13 – February 25, 2023

Opening Reception:
January 13th 2023, 7 - 9pm
---
How do we navigate feelings of confusion, anxiety, and grief when confronting political violence in a distant motherland? Distant water will not quench a nearby fire is an artist project that looks at diasporic experiences of Hong Kong's colonial histories and ongoing political unrest.


In 1997, Hong Kong's sovereignty was transferred from the United Kingdom back to the People's Republic of China after over 150 years of colonial rule. Taking cue from a popular souvenir t-shirt commemorating the event, I have invited six artists to create bootlegs of the original design, to re-appropriate dominant narratives of sovereignty and diasporic cultural identity.


This project was originally conceived during a residency at the Textile Museum of Canada in 2020. Revisiting this project three years later and during an ongoing global pandemic and numerous other changing (and unchanging) socio-political contexts has been both disheartening and surreal.


---
Petrina Ng
is an artist and organizer based in Toronto. Her work is informed by her position as a racialized settler. Petrina's collaborative work as
Gendai
(with Marsya Maharani) responds to BIPOC labour conditions of arts work. Their research and practice of collective values experiments with alternative economies and radical allyship to work towards a more equitable arts sector. She is also co-founder of
Durable Good
(with Rachel Wallace), a small publishing studio that supports artists, writers, and thinkers who work within feminist, equitable, and engaged frameworks; and
Waard Ward
, a collective that utilizes floristry and gardening as a means to embody decolonial research and newcomer community building.
petrinang.com
---





Amy Lam

In 1841, at the end of the first Opium War, the British forced the Qing Empire to hand over the island of Hong Kong for the purposes of enabling British trade and profit. This t-shirt memorializes that event, with the yellow Qing Empire flag being painted over.


Serena Lee

C a n U i m a g i n e ?

T h a n i t i s A L L T o t a l S i m p l i f y

A n d U & m e , w e a r e i n a fu tuu r e o f

b e l o n g s 2 US

B C a u s e A L L I T H I N K abot i s US in a

D1S T A N C 3

N E V E R FO R G ET WHe r e w e 1ST

Smelld THE F R AGR ANC3



Morris Lum

With consideration of Feign's original illustration, this work prods questions about who our intended audiences are and how racialized stereotypes work to uphold historic power imbalances. Utilizing representations of language and people, this design upturns the viewing narrative of the original, to instead speak to and reflext people who are most impacted by the handover.




Petrina Ng

A decade before the 1997 handover of Hong Kong, a contest invited local residents to propose a new flag for the new post-colonial era. Over 7000 submissions were received. A jury chose six finalists, but all were rejected by the PRC government. Depicting some of the rejected designs, this t-shirt commemorates a failed democratic undertaking.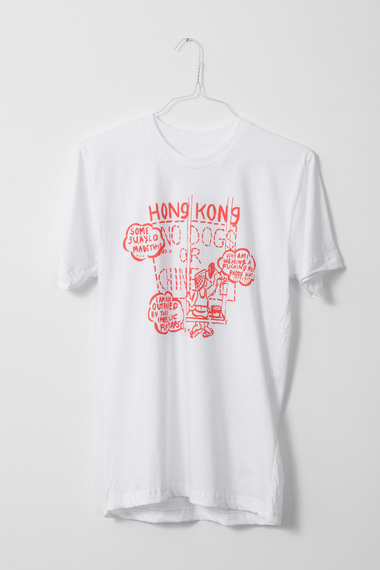 Amy Wong

Feign's illustration conflates complicated histories through a white lens, perpetuating colonial power dynamics. My mom describes their being raised in Hong Kong within a culture of internalized racism and aspirations for whiteness. My dad describes being Bruce Lee's neighbour and what a nice guy he was. Both speak of the colonial era "No Dogs or Chinese" signs, like the one Lee jump kicks in the 1972 film Fists of Fury.




Lan "Florence" Yee

As part of the Cantonese diaspora, my own cultural identity is informed by a "second-hand" version of Hong Kong culture. Starting with a digital image of a drawing of the original t-shirt, this design features photocopies of photocopies mimicking how processes of reproduction notate time and create distance and distortion.
Teresa Tam
A shirt of a day slowly dissolving into abstracted corners of memories and online listings. Distance and time create ever-blooming holes in places that once meant something. A day preserved as cheap goods manufactured 1000s of times, being forgotten in 1000s of ways. Aday that can't return what's lost.
Documentation: Darren Rigo for the Textile Museum of Canada, Christina Donqi Yao & Danny Luong
Excerpts from:
petrinang.com
中文翻译 Chinese Translation ...