David Zack: Wizard!? Perturber!? Possessed! Letters and other works of a correspondence artist, 1938 - 1995
Curated by Istvan Kantor

October 10 - November 8, 2008


Dialogue for a Correspondence Novel



Istvan Kantor:
At a time when history has lost its value and artists just emerging from college rule the art world, it's quite unusual and surprising for dead artists to suddenly show up to claim fame and their place in art history. But I'm glad to announce, ladies and gentlemen, that over three decades after he initiated the Monty Cantsin open-pop-star project and almost fifteen years after his disappearance, David Zack is back from the dead. Ja, ja, ja, Meine Damen und Herren, David Zack has been successfully resurrected through digital technology and his legend is growing faster than ever in the Electro-Eternal Network together with the Monty Cantsin mythology.
Somewhat similar to his spiritual master, William Blake, Zack was a "poet, painter, and printmaker" who "painted" typewritten correspondence portraits and used photocopy machines to multiply them. According to Zack, poetry is anything that can be copied on a copy machine. The process of copying is the structure of the poem. Zack not only appropriated the works of others, but he also created his own stuff to William Blake, Leonardo da Vinci, Antonin Artaud, Friedrich Nietzche, The Wizard of Oz, Dr. Al Ackerman and anyone else who inspired him. Almost constantly wandering around, restlessly seeking new and yet unexplored territories of communication and personal contact, Zack established himself in the mail-art network as its main correspondence user interface. His visionary ideas and eccentric behavior made him into a mythical character inside the nut-art, mail-art and Neoist short-circuits and ultimately led him to drop out of academic jack-off circles. - Reality's Mythology, essay, 2008


Vittore Baroni:
Dropping out from academic circles where he was educated, Zack became a free-lance art critic and video art pioneer, but he was also an early and very productive practitioner of mail art, sending out letters, drawings, poems, collages and songs on cassette to hundreds of contacts around the world. His drawings are childish and naive but also lyrical and intense, his collages of words and images often obscure in meaning and aim but nevertheless intriguing... He was a mad genius speeding through the avantgarde circles like a flipped out character in a LSD b-movie, irritating people with his obnoxious "songs" and conceiving self-deceiving schemes to conquer wealth and fame. - Evidence 3, Introduction, The Booklet of Oz, 2003


Geza Perneczky:
I have the impression that he is a very important (and also very problematic) person, one of those who hold big secrets and inspirations in their pockets as suburban moviegoers do with their popcorn. - The Magazine Network, Essay, 1993


David Zack:
I am a Neoist accused of fraud, a pure essence of Neoism... - (from Zack's correspondence to Matty Jankowski, Brooklyn, NY, from the Morelos State Penitentiary, Mexico, dated November 16, 1988)


Niels Lomholt:
Zack's approach to music became a great inspiration, not so much his music or his musical skill but the way the music always popped up or how an event, sentence or word suddenly became a song/sound, the fragmented flow of classical music, pop, blues, William Blake, cello, or self invented sounds moved in and out of small talk, stories, philosophy, the Monty Cantsin concept, or at other times it would go into a long monotonous and irritating streams of "songs" like "Neoiiissmm, Neoiissmm, Neoiissmm, art is a prison Zabala, Zabala, Zabalabalabalalala, Cavellini, Cavellililinininini..." - David Zack Unlimited, essay, 2008


Peter Haining:
Zack's personal correspondence novel is a modern tragedy - a classic narrative about one man's dreams being broken and shattered before his eyes and in his wake as he progresses, along his life's path or through the pages and chapters. And like the best tragedies, Zack's provides all the essential ingredients for myth-building on an epic scale - certainly one as exaggerated as Van Gogh's. - (David Zack's Correspondence with Pete Horobin, essay, 2008)


Judith Conaway:
What a good thing Zack was such a NUT ART case. It put an edging of farce on the tragedy. -(Email message to Istvan Kantor, November 20, 1998)
I've often envied, or at least understood, Zack's total commitment, absolute refusal to compromise with the capitalist world... Alas, my practicality always triumphs. He was crucified for not compromising, after all, and he took out a lot of people in the process. - Letter to Istvan Kantor, April 9, 1999


David Gilhooly:
I burnt all his original manuscripts years ago and have done my best to forget him completely! - (Email message to Istvan Kantor, June, 12, 2008)


Blaster Al Ackerman:
What Lear was to Shakespeare, Zack was to mail-art!


to be continued.......


I would like to thank the following friends, mail-artists and family members who contributed original correspondence works, hard copies, digital copies, video and sound recordings and valuable information to the growing Zack Archive, retrospective exhibition and book in progress. Laszlo Beke, Judith Conway, Vittore Baroni, Niels Lomholt, Anna Banana, James Cobb, Blaster Al Ackerman, Maija Peeples, The Haining, tENTATIVELY, a cONVENIENVE, Gordon Bowen (Monte Cappano), Richard Olson, David Gihooly, Clayton Bailey, Rose Zack, Musicmaster, Michael Leigh, A.1. Waste Paper Co. LTD, Don Mabie aka Chuck Stake, Tim Westbury, Florian Cramer, Reed Altemus, John M. Bennett, Mark Bloch, Keith A. Buchholz, Mauricio Guerrero Alarcon, John Armieder, Lowell Darling and Naomi Zack. Thanks also to Bill Kirby of CCCA.


Istvan Kantor, Exhibition Curator / Keeper of the Zack Archive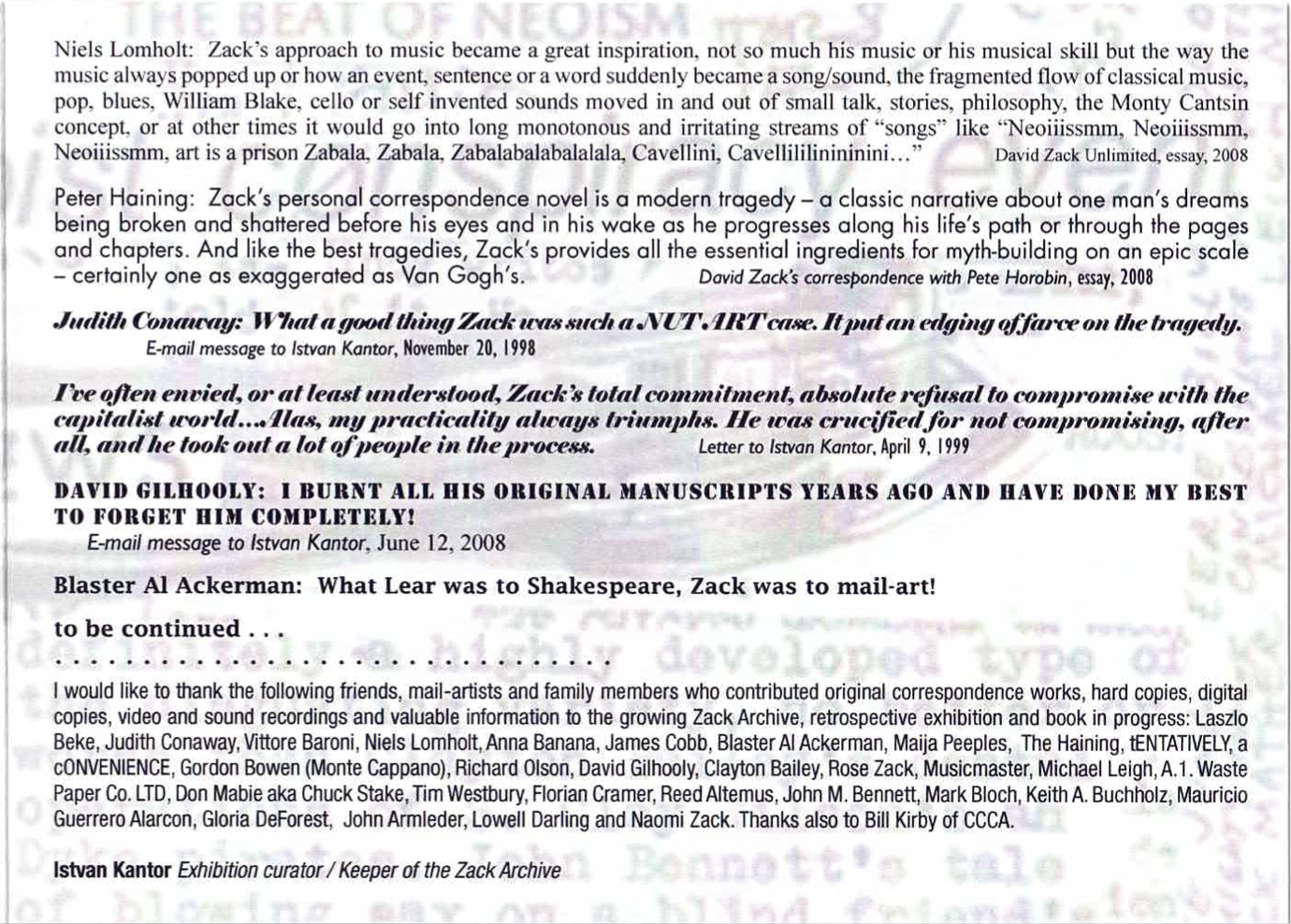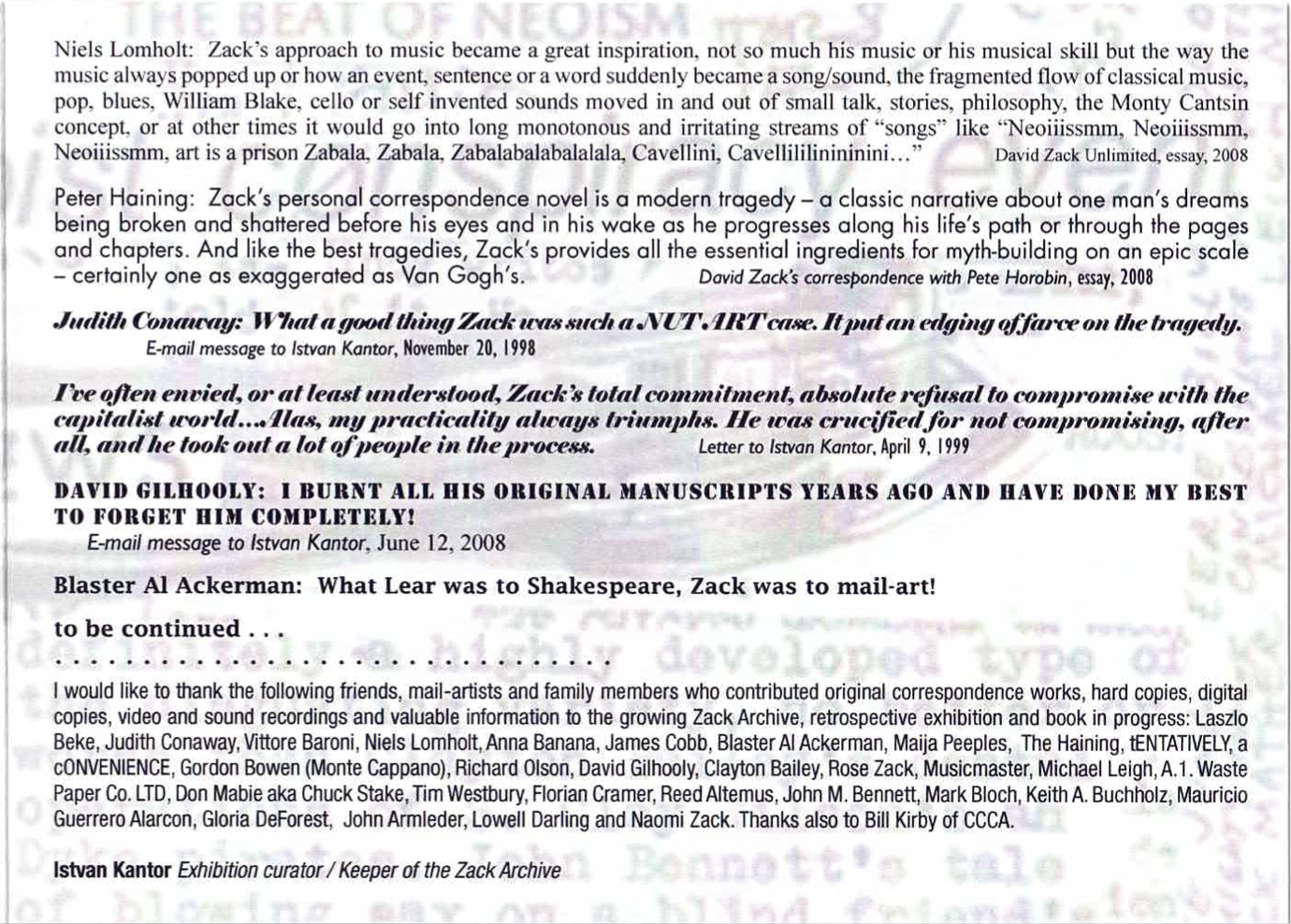 David Zack: Wizard!? Perturber!? Possessed! Letters and other works of a correspondence artist, 1938-1995

The New Gallery is pleased to present a major retrospective of the work of David Zack. Curated by the artist's longtime colleague and collaborator Istvan Kantor, this exhibition reveals the wide spectrum of artistic activity that comprises Zack's lifework. Focusing on his contribution to the development of correspondence art while a resident of Calgary in the 1970's, the exhibition also explores two of his most famous ongoing projects: the Monty Cantsin open pop star concept and the Correspondence Novels. Through this unique exhibition, viewers will re-enter the world of early mail art, time traveling through a vital creative period characterized by DIY publications, photocopy art, the cut-up handwritten poetical sketches, and other "open source" artistic activity. A catalog will be produced to accompany the exhibition, which is scheduled to tour nationally through 2010.

The Tree of Life Project - David Zack Station in Calgary
For this performance, artist Istvan Kantor will create a Neoist memorial and monument at a tree in downtown Calgary. Over the course of three days, Kantor will inaugurate the tree as a new meeting place, landmark, and tribute to the immortal spirit of dead artists, scientists, and revolutionaries.This Neoist memorial is dedicated to the work of the correspondence artist David Zack, and an exhibition of Zack's work can be found at The New Gallery's main exhibition space from October 10 to November 8. (2008)
Toronto-based artist Istvan Kantor, (aka Monty Cantsin), is the founder of Neoism. His multi-disciplinary practice includes performance, robotics, installation, sounds, music, video, and new media. His main subjects are the decay of technology and the struggle of the individual in technological society. His work has been exhibited internationally and described as intellectually rebellious, anti-authoritarian, technically innovative, and highly experimental.
www.istvankantor.com