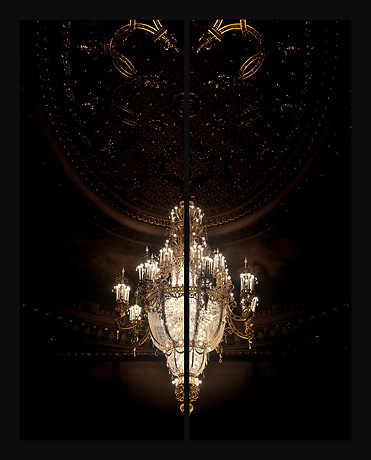 Chase

Blaine Campbell and Megan Wilson


June 6 to July 20, 2013

Similar to the sound of a band or symphony warming up, the house lights going down in a theatre trigger a learned neuro-chemical response that readies the body for a dark, reverie-laden space where spectators slip into their seats as though slipping into bed. The slow extinguishment of light performs an act of transformation in which the everyday is temporarily suspended in preference of another reality. When the lights come up it is as though a hypnotist has snapped his fingers, bringing the long moment of restful, augmented attentiveness to an end.

Chase is a collaborative video installation by Megan Wilson and Blaine Campbell. The video's subject is the 1000 lb Czechoslovakian crystal chandelier hanging above the balcony at the centre of Vancouver's Orpheum Theatre. The chandelier's lights slowly progress through an endless on-off cycle, a glowing, pulsing beacon, the crystals' multitude of facets catching and refracting light. Often ambiguous, the result appears to transform back and forth between some alien, night-time cityscape and an ornate, gothic behemoth.





Essay

A theatre's ambient light is an integral part of the staged experience: it gives social and psychological cues about beginning, middle, and end, allowing the audience to appreciate their surroundings, then forget them. Chase (2011), a video installation by Blaine Campbell and Megan Wilson, focuses on the source and affect of this particular light. Beginning with complete darkness, a barely visible glimmer slowly appears, suggesting a starry sky or distant cityscape. This abstract field gives way to an ornate shape as the work's subject, an elaborate Czechoslovakian crystal chandelier, is revealed. This particular object hangs over the central balcony at the Orpheum Theatre in Vancouver, where it has been since 1927; in Chase the fixture is isolated from its surroundings, becoming a mysterious apparition rather than historical treasure. Fading in and out of view, it feels like a slow motion firework. It's also reminiscent of the way an intense sidelong ray of light or moving shadow can totally alter the atmosphere of a room, momentarily pausing everything else.

Campbell has consistently engaged with the constructed in his art practice, making viewers very aware of the way things are seen, by the human eye and camera; how scenes are constantly assembled (both naturally and culturally). Wilson's solo and other collaborative projects have focused on a sense of self-reflection and isolation, often produced or expressed through architecture. Chasepulls these interests together, focusing on a singular object of contemplation, subtly holding up a complex array of human endeavors: design, luxury, performance, nostalgia. The video allows the viewer a leveled, direct view of the chandelier – one that is otherwise inaccessible – framing the object as sole focus. A technical term in theatre lighting, "chase" describes a timed sequence of lights, often used to guide the viewer's eye and create dazzling effects. While the meditative pace of Campbell and Wilson's video contrasts with the typically flashy use of this technique, it likewise programs a transfixing cycle. In terms of guiding the eye, and what is looked at, the chandelier presents a particularly poignant subject; it is a grand thing, designed to disappear. It also controls the visibility of what surrounds it, a functional spectacle, while through its age and familiarity, ceases to be as seen.

Also on view, Campbell's photographic work Staging 2 (2013) depicts the chandelier during its annual maintenance, lowered and surrounded by scaffolding. Shot on 8″ x 10″ film, the photograph's exacting, extreme detail emphasizes the 1000 lb weight of the chandelier, in striking contrast to the incredible lightness of the video. The rusted scaffolding and the worn velvet of the seats convey a sense of time passed, of fading; the chandelier itself looks not so much delicate as vulnerable. These signals of age emphasize the transcendent qualities of the video, of time suspended, the extension of that transitory moment between darkness and light, possibility and actuality.

– Rose Bouthillier

Biographies

Megan Wilson was born in Saskatoon, spent much of her childhood in Auroville, India and eventually moved to Vancouver to attend the University of British Columbia (BHK). She holds a BFA from Emily Carr Institute and a MFA from Simon Fraser University. Megan currently resides in Cumberland, BC and is a sessional instructor at the North Island College and Emily Carr University. Exhibiting since 2003, her work has been shown in Canada, the USA, England and Wales.

Blaine Campbell holds a BFA in photography (Emily Carr Institute) as well as a BMath (Waterloo) and MSc (University of Calgary). Blaine is a recipient of the national award in the BMO 1st Art! competition and is currently a sessional instructor at the University of the Fraser Valley. His work has been exhibited at various galleries and museums in Canada and the Netherlands. He is represented by Republic Gallery in Vancouver.

Rose Bouthillier is a curator and writer currently based in Ohio, where she is Assistant Curator at the Museum of Contemporary Art Cleveland. She holds an MFA in Criticism & Curatorial Practice from OCAD University, a Diploma in Art History from the University of British Columbia, and a BFA in photography from the Emily Carr Institute of Art & Design. Her writing on art has been published in frieze, C Magazine, and esse.