MAINSPACE EXHIBITION /
Varvara & Mar –
Chameleon
, 2016.
Chameleon

Varvara & Mar


April 6–May 11, 2019



Exhibition Description /

Chameleon tackles current political and identity-related issues, welcoming any and all kinds of discourse and interpretations. A complex identity crisis — brought on by a cosmopolitan and hyperconnected era — is the cause of losing one's sense of belonging, yet in contrast, has also influenced the rise of radical nationalism. The exhibition aims to raise questions about the superpowers of our society, the meanings behind their flags, and the resurgence of nationalism in a cosmopolitan age. Each of these topics is tightly intertwined with the ethnic backgrounds of the artists and the politics of today. Varvara & Mar both struggle to identify themselves with any nation, and thus, the artworks mirror their complex identity issues. A growing amount of people experience a similar loss of belonging in these mobile and connected times. Hence, the exhibition touches upon multiple layers of personal and global interpretations. Chameleon implements the artistic language that Varvara & Mar normally use in their work: light, kinetics, interaction, readymades, and textiles. The central symbol throughout the show is a flag. We see an increasing amount of flags around us, communicating support for certain nations or groups, yet on the other hand, disapproving of others. The duo uses this symbol in their practice to bring these notions to attention and trigger discussion on the burning subjects of today.



Exhibition Text /

Flying false colors

The world is increasingly more connected, and at the same time, more divided. Globalization has led to the domination of economic interests and the imposition of a homogenous consumer culture around the planet. The Internet facilitates the exchange of information and the distribution of content immediately, making each user a node of the worldwide network. In this context, a large part of the inhabitants of industrialized countries consider themselves citizens of the world, since they read international news, follow global trends or move relatively easily from one country to another.

But global and national economic policies have also generated deep inequalities, leading to the demand for the return of certain borders and facilitating the increase of xenophobia. In each country, there is a tension between patriotism and cosmopolitanism, between local interests and international pressures. Brexit, the withdrawal of the United Kingdom from the European Union (EU) that is due to take place on March 29 of this year, Donald J. Trump's campaign for a border wall between the United States and Mexico, and the crisis generated in Spain by the opposition of the government to a public referendum on the independence of Catalonia, exemplify these tensions. As expressed by Michel Foucher, there is a "reaffirmation of borders": sovereign states are hardening their borders by limiting the influx of immigrants and refugees, introducing new regulations on foreign products, or imposing the notion of a unified nation on the regions inside their territory.

In Chameleon, artists Varvara Guljajeva (Tartu, 1984) and Mar Canet (Barcelona, 1981) explore the contradictory identity of countries in a globalized world through their emblems and codes. National flags become a malleable material with which they elaborate endless processes that question the stability of States, their durability and the borders that separate them. According to Richard Falk, governments are dominated by the pressures of regional and global economic structures (EU, NAFTA, World Trade Organization, World Bank), which leads to the situation of "neurotic States," where the demands of society and the requirements of the international market contradict each other. This is clearly visible in the artworks Camaleón (2016), a white flag with embedded LEDs that swiftly morphs into the flag of any country, and One Flag Every Day (2016), a software that generates new flags by combining the emblems of the countries that are most frequently referred to in mass media every day. Conversely, the tensions generated by competing nationalisms is expressed in Who Is Next? (2016), a device that speculates on a possible domino effect of Brexit, with countries leaving or being expelled from the EU, and Democracy (2017), an installation of twenty maneki-neko equipped with batons, that symbolizes global capitalism and state repression.

These works suggest that states are not as unified as they seem, their identities more uncertain and their sovereignty more questionable than most may admit. Therefore, when idealist CEOs and political leaders, cosmopolitans and patriots, raise their flags or pretend to ignore them, their actions usually hide their real motivations.



–Pau Waelder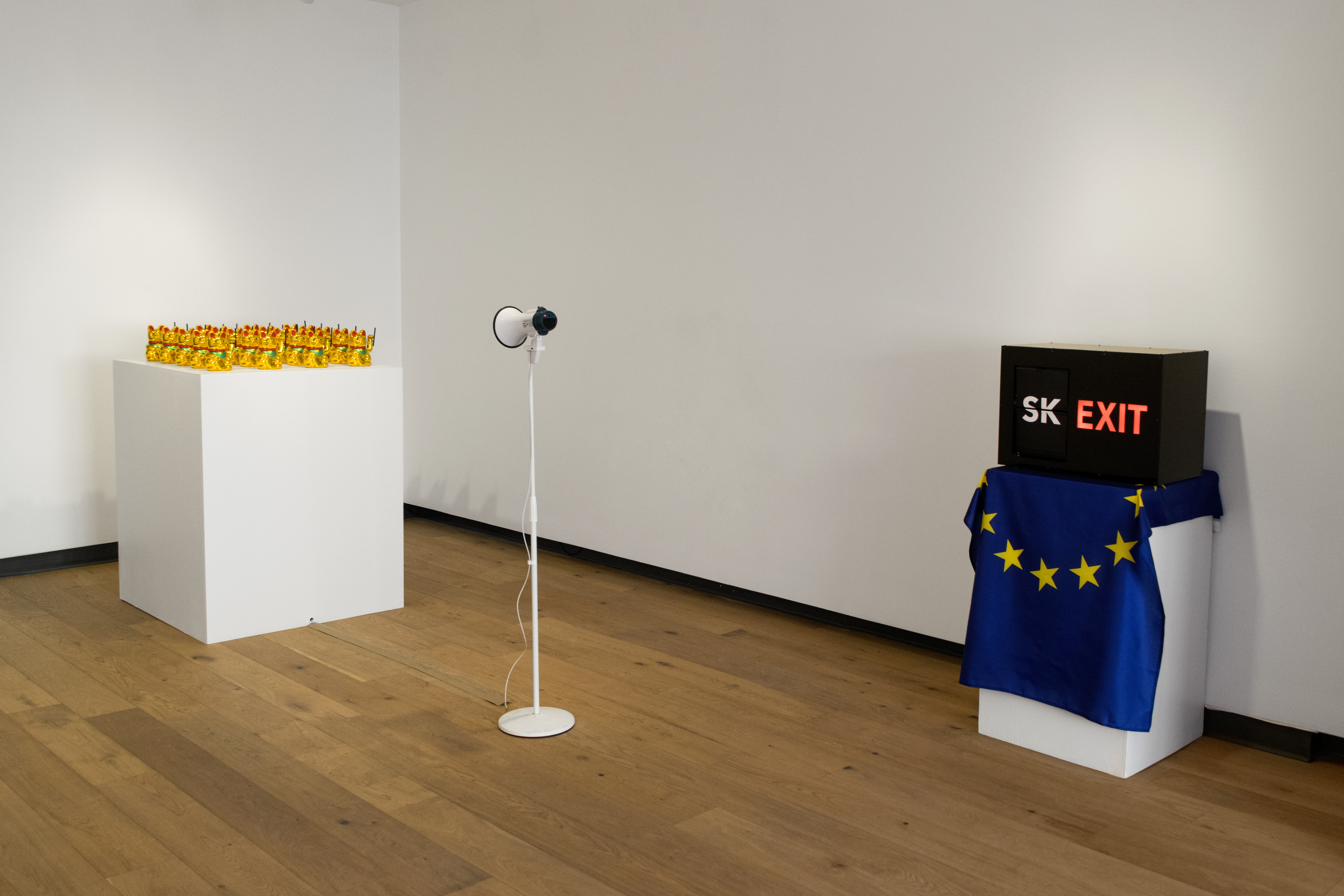 Biographies /

Varvara & Mar is an artist duo formed by Varvara Guljajeva and Mar Canet in 2009. Often the duo's work is inspired by the digital age. In their practice they confront social changes and the impact of technological era. In addition to this, Varvara & Mar are fascinated by kinetics, participation, and digital fabrication, which are integral parts of their work. The artist duo has exhibited their work in a number of international shows and festivals, including MAD in New York, FACT in Liverpool, Santa Monica in Barcelona, Barbican and V&A Museum in London, Onassis Cultural Centre in Athens, Ars Electronica museum in Linz, and ZKM in Karlsruhe.

Varvara (born in Tartu, Estonia), has a PhD in Art and Design from Estonian Academy of Arts. Mar (born in Barcelona, Spain) has MA from Interface Cultures at the University of Art and Design Linz.

Pau Waelder is a curator, writer and researcher. He has a PhD from the Information and Knowledge Society at the Universitat Oberta de Catalunya (UOC), where he is also a lecturer in Arts and Humanities. Waelder's recent curatorial projects include the exhibitions All Changes Saved, Real Time, Remote Signals, and Extimacy: Art, intimacy and technology. Waelder has published articles and essays in contemporary art magazines and peer-reviewed journals, and is currently the Editor of Media Art at art.es magazine, and an editor and writer at Art Matters and Design Matters (UOC).



The New Gallery would like to thank the Alberta Estonian Heritage Society and the Estonian Foundation of Canada for their support of this exhibition.

Territorial Acknowledgments

TNG gratefully acknowledges its home on the traditional territories of the people of the Treaty 7 region, including the Blackfoot Confederacy (Kainai, Piikani and Siksika), Métis Nation of Alberta Region III, Stoney Nakoda First Nation (Chiniki, Bearspaw, and Wesley), and Tsuu T'ina First Nation. TNG would also like to acknowledge the many other First Nations, Métis and Inuit who have crossed this land for generations.