Artist Trading Cards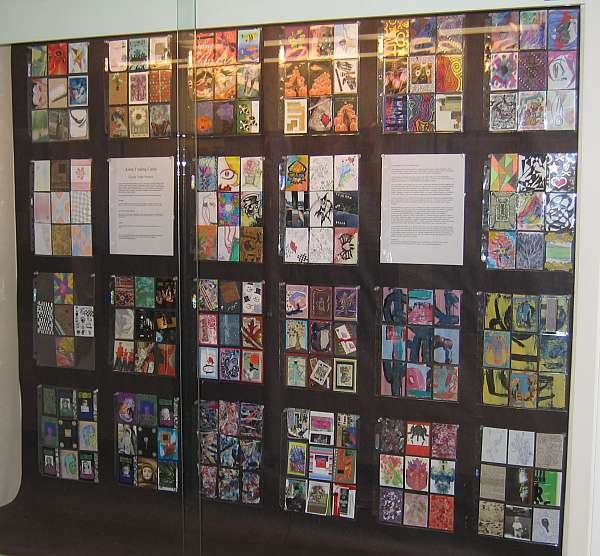 Artist Trading Cards (ATCs) are part of an effort to increase the public's acceptance of art as an aspect of daily life, and to encourage artistic production not just consumption. ATCs encourage Calgarians, regardless of background, to become active in the local arts community. TNG began supporting ATCs in 1997 and used to support its activities by hosting Trading Card Sessions on the last Saturday of each month from 5:00 – 7:00 PM and by promoting ATCs provincially, with a touring ATC exhibition and workshop program through The Alberta Society of Artists (ASA) as part of Alberta Foundation of the Arts Travelling Exhibition Program (AFATEP).

ATCs are miniature works of art, created on 2.5 x 3.5 inch card stock. There are no restrictions as to medium (they run the gamut from painting to collage to rubberstamps to found images to the limits of your imagination), subject matter or number; they may be 2D or 3D, original, a series, an edition or a multiple.

Regular Trading Sessions were held on the last Saturday of every month from 5:00 to 7:00 PM at The New Gallery. Whatever your age or art background, you were invited to attend the Trading Sessions. (Observe for the first time if you like, but we guarantee you will be making your own cards soon after!)

The last artist trading card session

History

The concept of Artist Trading Cards (ATC) was initiated by Zürich artist m. vänçi stirnemann and developed/promoted by himself and artist Cat Schick through INK.art&text in Zürich. In September 1997 Don Mabie (a.k.a. Chuck Stake) brought the first ATC session to Calgary at The New Gallery. Since that time regular Trading Sessions have been held every month. As many as 75 individuals have attended the monthly trading sessions with a core group of 30-35 people in regular attendance. The participants include artists, art students and members of the general public ranging from six to sixty years of age. The democratic and free exchange involved in trading these cards creates a space for the production of a vernacular art form outside of the hierarchical high-art world. In addition to the in-person trading sessions where artists meet to discuss and trade works the phenomena of ATCs continues to spread across the globe through trades via mail.

ATC Committee

The Artist Trading Card Committee is a committee of The New Gallery and the organizing group which keeps ATCs going in Calgary and aids in growth of the ATC movement world wide. The official members of the committee are Paul Brown, Theo Nelson, Georgie Stone, and June Hills. Honorary members are Chuck Stake (aka Don Mabie) and Melody Nayler Keller.

Links

http://www.artisttradingcards.org/

Join the group at https://www.facebook.com/groups/4626941823/

Archive

The New Gallery's Resource Centre (208 Centre St. SE, upstairs) holds our Artist Trading Cards archive. Included in the collection are ATC event posters from 1998-2001, administrative files relating to ATC events and the ATC committee, programming materials from ATC events held at TNG, and TNG's own collection of 225 ATCs. To view the collection or request more information, please contact our team.