Mainspace Exhibition /
And in spring we'll wait for lilacs
Kiona Callihoo Ligtvoet

March 10 - April 22, 2023



"Desire is a refusal to trade in damage; desire is an antidote, a medicine to damage narratives. "*

And in spring we'll wait for lilacs is a collection of visits over instant coffee, time spent resting in newly thawed grass after a long winter's sleep, and relatives guiding one another's hands through brambles and soil. Each painting acts as reassurance, that with ease and patience, better days will come. They acknowledge regret as a longing for something different, and remind us of what's still kept safely and tenderly. Not with the absence of grief, but with acceptance of what's felt between self-compassion and care.


Through the works, gentle attempts are made at navigating intergenerational loss and longing, in the presence of enfranchisement and personal displacement. Looking to moments and promises that still linger between past and present, the work gives space to the complexities of grief, a gratefulness for visiting home, and exchanges of trust; that each overlapping story that has been sowed will be held, and in spring there will be lilacs again.


---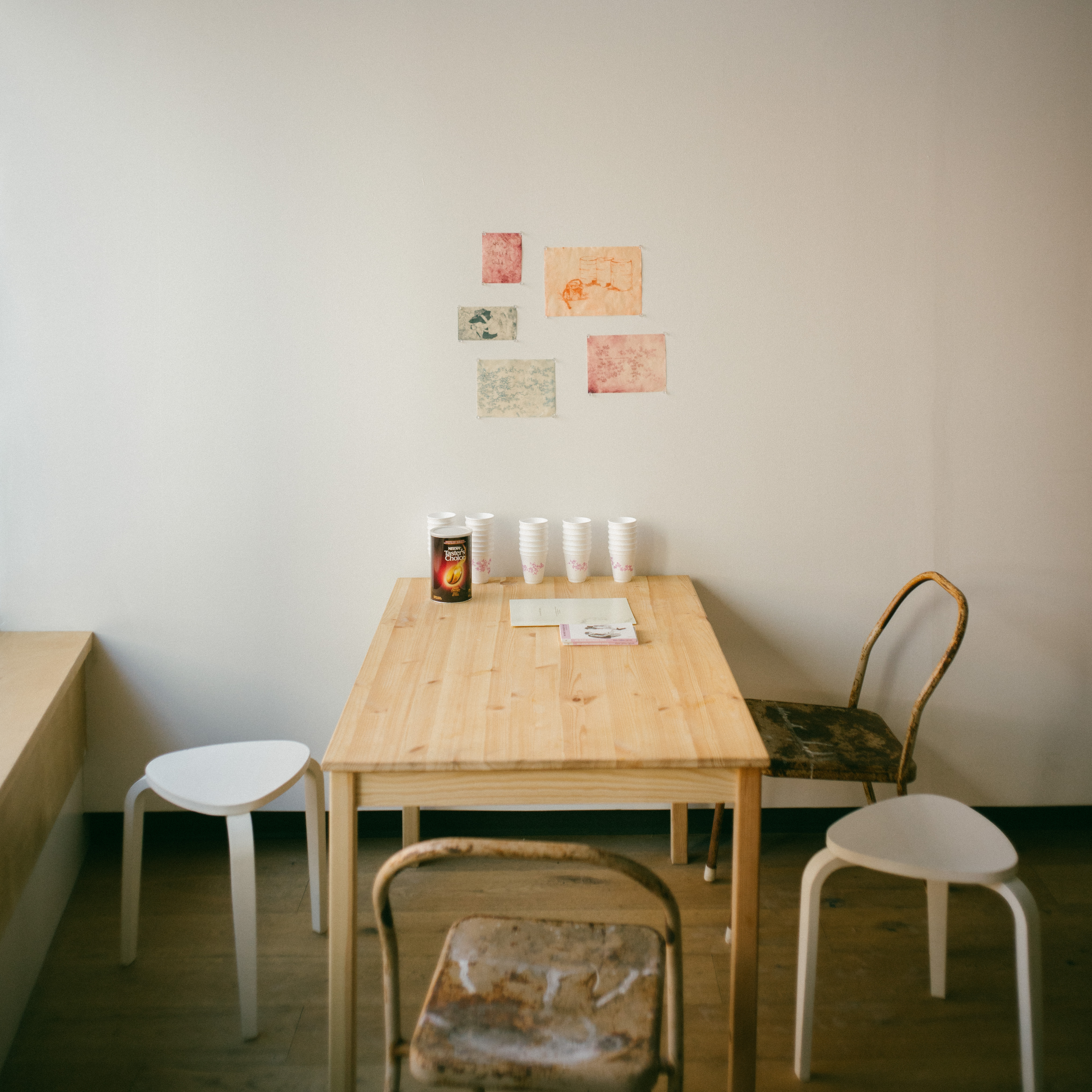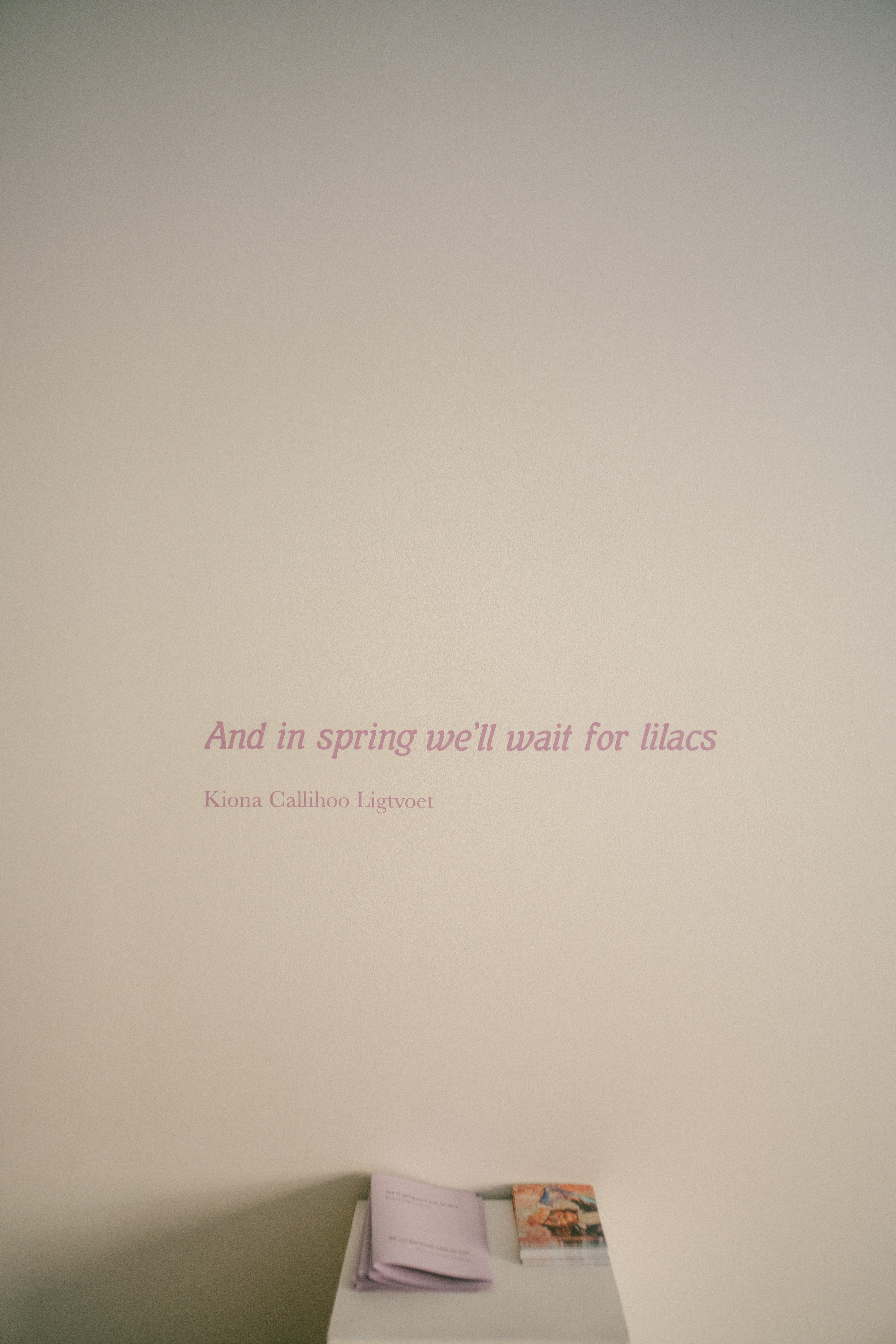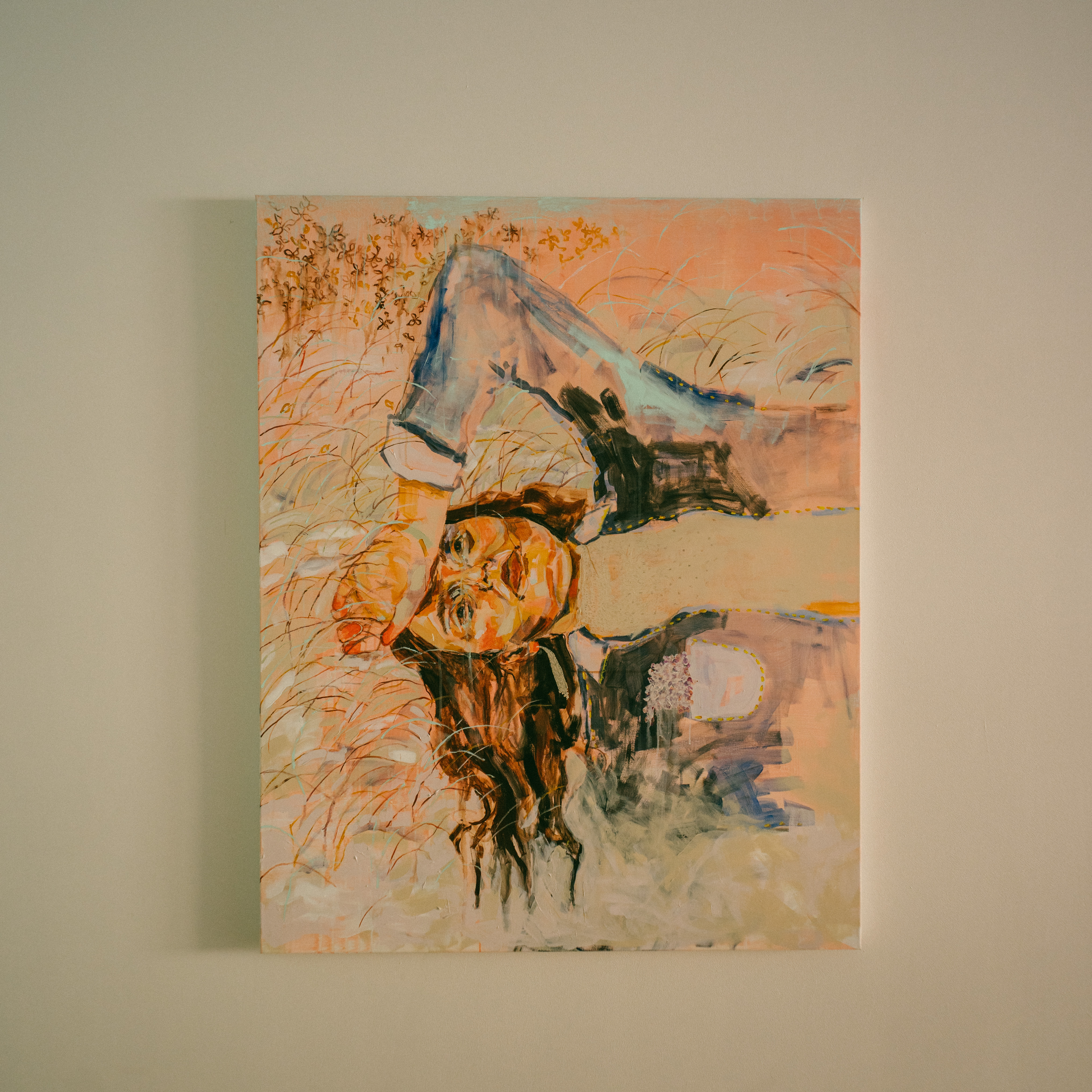 Documentation by Danny Luong
---
We can hold hands while we wait
Sanaa Humayun
I'm writing this on a biting cold March day - Kiona, Jasmine and I spent the day preparing to install her exhibition,
And in spring we'll wait for lilacs
. This meant taking a long lunch, picking out the perfect teal paint for the walls, and sitting around a folding table gossiping and sharing stories while waiting for coats of paint to dry; flecks of teal paint staining our hands, clothes, and faces. Kiona and Jasmine's cackling laughter is the soundtrack to this exhibition text.
Our installation process is informed by the same care and gentleness that runs throughout the exhibition. Kiona is someone who wants to make it comfortable - not just for herself, but for everyone involved in the process. There's no worry about if things will run on time, if they will look good, if everything will turn out ok. We trust each other to do the best we can, and for that to be enough.
And in spring we'll wait for lilacs
is rooted in trust. This body of work is a reminder that we can trust in each other, to hold and be held, to weather the hard parts together until the load is lighter. Soft, pastel colours run throughout, highlighted by pops of bright blue and orange making everything feel a little dreamy. Despite this dreamy quality, the exhibition rests in the reality of bittersweet tenderness and vulnerability as part of Kiona's ongoing body of work which explores her relationship to a place she won't always have access to. Kiona has Cree and Métis family lines, as well as mixed European, and comes from Michel First Nation. The farm she grew up on is the last of the scrip given in exchange for enfranchising Michel First Nation. Her Moshom is the last caretaker of this land, and this place that means so much to her, lives in a tenuous and uncertain balance. Her practice continues to serve as an archive of this place, of the relationships held within it.
From better days in soil and brambles
greets you when you walk into the gallery. Her Moshom stands along the wagon trail at the farm, picking mint from the grass. It used to be a marsh, and though the land has shifted over time, some of its habitat is still there. This section borders a field of crops, and they can see where the pesticides have spread, a stark line where the mint no longer flourishes. Kiona's work thrives in the details. The quiet focus on her Moshom's face as he rubs the mint in his hands sits in contrast to the vaguely defined details in the background. Brambles weave around his feet, a familiar imagery found throughout her work. Her shadow is vaguely defined in the corner of the piece, reaching to meet his.
As always, Kiona's work rewards you for looking. In This is where you'll find me, the emotions lie in the details. The brambles have a visceral, raised texture, both painted and carved into the canvas. Above her translucent hands sits ghostly text, "if I pass on and haunt a place this is where you'll find me". The grief in this piece is apparent in the dripping lines of paint from Kiona's hands, the rough and raised texture of the brambles. The farm has always been a place that's made space for grief and loss; through the history of enfranchisement, through the way the surrounding land has changed, through Kiona's relatives that have passed with her last memories of them being on this land. Making space for this grief creates space for comfort too. Though the future of the land is uncertain, it will always exist in some way or another. She can always come home, and when she passes she'll remain here, and there's comfort in that thought too.
In
Mint Picking
, she brings us back to walking on the farm, collecting mint. The tall grass is full of leaves and to find the mint, her Moshom rubs the leaves against his fingers and smells for mint. She paints a tender moment between them as he holds the mint for her to smell. When she leaves the farm her fingers smell like mint for the rest of the day.

And in spring we'll wait for lilacs
hurts to look at for too long. It pokes at the most hidden parts of my heart, the things I struggle to share, the vulnerabilities and endings, it reminds me of finding solace in solitude, a place that feels like home. It feels like a last tethering point when I feel lost. The crisp blue highlights that run throughout, the soft expression on Kiona's face. This work is the best of Kiona. She describes this work a little hesitantly. It's a private moment with herself, and one she's careful to keep close. She describes it as the feeling of laying down in the grass just as it starts to peek through the wet and cold of the thawing snow. It's finding comfort on the farm, as her body settles into the land and she can finally breathe fully. In the background are lilac bushes. They're not indigenous to the land, her Moshom and Grammy planted them years ago, and now they grow back every year.
It's incredibly special to steward and share in the work of someone I care about so much. Every level of supporting this installation has been playful, gentle, and tender. We acknowledge regret and grief, and make space for those things while celebrating ourselves and each other. That's what Kiona does in this show, for herself, for her loved ones, and for everyone who visits with these stories for a while. I've known and loved Kiona for three years. It feels like a lifetime and also has passed in seconds. In three years of laughter, validation, tears and venting, Kiona has shown me again and again that time, love and care soften so many hurts. No matter how hard it feels, knots loosen, time passes, lilacs grow once again. The way I love this show is so deeply informed by the way I love Kiona - I know I'm not objective. I see the fierce care and support that she builds into her life spread across the exhibition, embedded into the processes and the methodologies she uses. I've seen her grow and advocate unapologetically for herself and others, I've seen her carry her loved ones through their hardest moments, I've seen her art practice develop an incredibly raw and genuine visual language that remains rooted in emotion and accessibility. I don't know how to be objective but I think that's ok, because this work isn't objective. It's not sterilized by its placement in the stiff white walls of an institution. Instead, it brings a softness into a space that doesn't provide it as a given. It gives you a place to sit at the kitchen table, to curl up with a tea, to rest for a moment.
Through every down, through every dark winter night that feels endless, this work reminds me of what Kiona's friendship always has - in the spring there are always lilacs once again. We can hold hands while we wait.
---
Kiona Callihoo Ligtvoet
(she/her) is a multidisciplinary artist practicing in amiskwaciwâskahikan on Treaty 6 Territory. She grew up West of the city near the hamlet of Calahoo where she lived with her relatives on scrip land. Her family lines are Cree and Métis descending from Michel First Nation, as well as Dutch and mixed European.
Kiona works in painting, printmaking, and drawing, recollecting personal stories of grief and tenderness. Her practice uses a non-linear telling of her memories through narrative work as a form of diaristic archiving. It draws from feelings of loss and enfranchisement, but also from deep belly laughter, and a gentle fondness for where the histories between herself and her family overlap and disperse.
Working alongside other artists in initiatives of community care, Kiona co-organizes Making Space in partnership with Sanaa Humayun. Kiona likes visiting her moshom on the farm, and gossiping with her mom, relatives, and friends on the prairies :)
---
PRESS /

Artslink - Kiona Ligtvoet on CJSW 90.9fm
interview with Kiona Ligvoet about her exhibition
And in spring we'll wait for lilacs
at The New Gallery. Published March 27th, 2023.
---
* A Glossary of Haunting, Eve Tuck and C. Ree (page 647-648)
Tuck, E., & Ree, C. (2013). A Glossary of Haunting. In 1250032121 926014821 H. J. Linn, 1250032122 926014821 T. E. Adams, & 1250032123 926014821 C. Ellis (Authors), Handbook of autoethnography (pp. 639-655). Left Coast Press.





中文翻译 Chinese Translation ...

Kiona Callihoo Ligtvoet(她/她)是一位在第六條約領土上的amiskwaciwâskahikan的多學科藝術家。她在城市以西靠近Calahoo村莊長大,在土地契約上與親戚們一起生活。她的家族血統包括Cree和Métis,源自Michel First Nation,以及荷蘭和混合歐洲人。

Kiona的作品包括繪畫、印刷和描畫,回憶個人的悲痛和柔情故事。她的實踐使用非線性的敘述方式來講述她的回憶,作為一種日記式的存檔形式。它汲取了失落和自主權的感受,但也從捧腹大笑以及對她和家人之間的柔情故事重疊和分散中汲取了靈感。 Kiona與其他藝術家一起參與社區關愛倡議,與Sanaa Humayun合作創辦了組織Making Space。 Kiona喜歡拜訪農場上的moshom,並與她的母親、親戚和朋友們在大草原上聊天 :)

"渴望是拒絕交換傷害的行為;渴望是一種解藥,一種用於傷害敘事的藥物."

我們在春天等待丁香花開是一系列拜訪過程的記錄,包括與人分享速溶咖啡的時光、在經歷漫長冬眠後休息在新發芽的草地上以及親戚們互相牽手穿過荊棘和土壤的過程。每一幅畫作都是一種安慰,告訴我們只要輕鬆和耐心,更美好的日子就會到來。它們認可遺憾是對不同的事物的嚮往,並提醒我們仍然在安全而溫柔地保留著什麼。這並不是排除悲傷,而是接受自我關懷和關心之間的感受。 通過這些作品,試圖以溫和的方式應對代際損失和渴望,面對授權和個人流離失所的存在。尋找過去和現在之間仍然存在的時刻和承諾,作品為悲傷的複雜性、回家的感激和信任的交流留出空間;在這個過程中,每個重疊的故事都會被銘記,而在春天,丁香花又會再次開放。

We can hold hands while we wait 我們可以手牽手地等待 Sanaa Humayun 我在一個寒冷的三月日子裡寫下這篇文字 - Kiona,Jasmine和我花了一整天時間佈置她的展覽-我們在春天等待丁香花開。這意味著一頓很長時間的午餐,挑選完美的青綠色牆漆,圍坐在折疊桌旁,聊八卦,分享故事,等待塗料變乾,青綠色的顆粒染上了我們的手、衣服和臉。 Kiona和Jasmine的歡笑聲是這個展覽論文的背景音樂。

我們的布展過程充滿瞭如同這個展覽所帶來的重視和柔情。 Kiona希望讓每個人都感到舒適 - 不僅是為了她自己,也是為了參與過程的每一個人。我們不用擔心時間是否充足,是否會達到預期效果,或者是否會一切順利。我們信任彼此盡力而為就足夠了。

我們在春天等待丁香花開 建立在信任之上。這個作品提醒我們,我們可以相互信任,互相扶持,在共同度過困難時期直到負擔變得更輕。柔和的粉色和藍色以及鮮豔的橙色穿插其中,讓一切都感覺有些夢幻。儘管有這種夢幻般的質感,展覽還是圍繞著Kiona持續探索她與一個她未必總能接觸到的地方的關係,其中包含著苦樂參半的溫柔和脆弱。 Kiona有Cree和Métis的家族背景,也有混血歐洲血統,並來自於Michel原住民。她成長的農場是最後一塊用來交換Michel原住民獲得公民權的土地贖券。她的外公是這片土地上的最後一位看護人,而這個對她來說非常重要的地方正處於不穩定和不確定的平衡狀態。她的藝術創作繼續成為作為這個地方和其中所涉及的關係的歷史檔案。

在步入畫廊時,映入眼簾的是From better days in soil and brambles。 Kiona的Moshom站在農場的車道旁,從草地上採摘薄荷。這片土地曾經是沼澤地,儘管隨著時間的推移土地發生了變化,但它的一些生態環境仍然存在。這個區域毗鄰一片農作物田地,他們可以看到殺蟲劑擴散的地方,那裡有明顯的一條線,薄荷不再茂盛。 Kiona的作品擅長細節刻畫。她外公聚精會神地把薄荷揉在手中,面部細節清晰,與背景中模糊不清的細節形成對比。荊棘纏繞在他的腳周圍,這是她作品中常見的意象。她的身影在作品的角落中模糊不清,伸手與他相遇。

一如既往,Kiona的作品會讓你驚喜不斷。在This is where you'll find me中,情感在細節中體現。荊棘的質感有一種真實的,凸起的質地,同時被繪製和雕刻在畫布上。在她透明的手上方,有著鬼魂般的文字,"如果我去世了,在一個地方遊蕩,那就是你能找到我的地方"。這幅畫作中的悲傷可以從Kiona手上滴落的油漆,荊棘的粗糙和凸起的質地中感受得到。這片農場一直是一個容納悲傷和失落的地方,通過剝奪選舉權的歷史、周圍土地的變化以及Kiona的已故親戚,她最後的記憶都在這片土地上。為這種悲傷留下空間也為舒適創造了空間。儘管這片土地的未來充滿不確定性,但它總會以某種方式存在。她可以隨時回家,在她去世後,她仍然會留在這裡,這樣的想法也也是一種安慰。

在Mint Picking中,她帶我們回到了在農場裡走在田野上,採摘薄荷的時光。茂密的草叢中滿是葉子,為了找到薄荷,她的Moshom會用手指摩擦葉子,聞聞有沒有薄荷味。她描繪了他們之間的溫柔瞬間,他為她拿著薄荷,讓她聞聞。當她離開農場時,她的手指一整天都散發著薄荷的香氣。

And in spring we'll wait for lilacs, 如果盯著這幅畫看時間久了會心痛,會觸動我內心最深處的部分,那些我難以分享的脆弱、結束的事情,它讓我想起在孤獨中尋求安慰的感覺,那個讓我感覺像家的地方。當我迷失方向時,它感覺像最後的執著點。作品中清晰的藍色高光和Kiona柔和的表情,描繪得淋漓盡致。這是Kiona最好的作品之一。她有些猶豫地描述了這件作品。這是她與自己私密的時刻,她小心翼翼地將其保留在心中。她形容這種感覺就像是躺在草地上,當春天的雪開始融化時,草地逐漸露出來。這是在農場裡找到安慰,當她的身體融入土地,她終於可以充分呼吸。背景中是紫丁香灌木。它們並非土生土長,是她的外公和外婆多年前種下的,現在每年都會重新生長。

能夠支持並分享我非常在乎的人的工作,這是非常特別的。支持這個展覽的每一個層面都是富有趣味、溫柔和關懷的。我們承認懊悔和悲傷,並為這些事情留出空間,同時慶祝我們自己和彼此。這就是Kiona在這個展覽中所做的,為了她自己,為了她的親人,也為了那些停留在這些故事的人們。我認識並愛著Kiona已經三年了。感覺像是一輩子,也像是轉眼間。在三年的歡笑、認可、淚水和傾訴中,Kiona一次又一次地向我展示了時間、愛和關懷是如何減輕痛苦的。無論感覺多麼困難,糾結都會舒緩,時間會流逝,紫丁香又會再次生長。我如此深刻地愛著這個展覽,這是因為我愛著Kiona的方式深刻地影響了我。我知道我並不客觀。我看到她在生活中建立的堅定關懷和支持貫穿整個展覽,嵌入了她使用的流程和方法論中。我看到她勇敢地為自己和他人發聲,我看到她在親人最艱難的時刻支持他們,我看到她的藝術實踐發展出一種極其原始和真實的視覺語言,仍然根植於情感和易於理解。我不知道如何客觀地評價,但我認為這沒關係,因為這個作品不是客觀的。它沒有因為放置在某個機構僵硬的白牆上而被消毒。相反,它為一個沒有提供柔軟性的空間提供了一種柔軟。它給你帶來一個坐在餐桌旁、捧著茶杯、歇息片刻的地方。

在每一個低谷,在每一個感覺無盡的黑暗冬夜中,這個作品都讓我想起Kiona的友誼 - 在春天,紫丁香總是再次綻放。我們可以手牽手地等待。